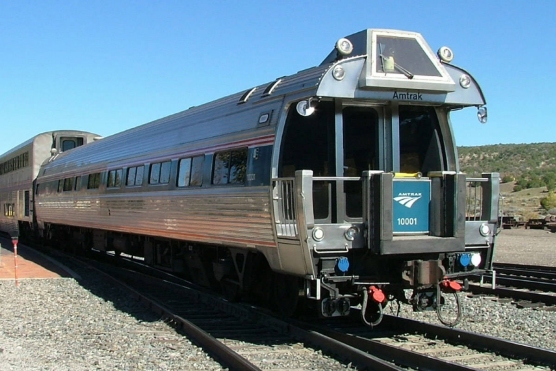 News Release Date:
July 9, 2007
SCRANTON, PA – On July 8 through July 14, the National Railway Historical Society (NRHS), in partnership with Amtrak, the Canadian Pacific Railway and Steamtown National Historic Site, will conduct RailCamp 2007. This highly successful program began in 1998 as a pilot project to create a forum where students in the ninth through twelfth grades learn about the fascinating world of railroading and share ideas and interests with peers from other areas of the United States.
This year, Amtrak – the National Railroad Passenger Corporation – will make a special visit to Steamtown National Historic Site. Amtrak will bring passenger equipment including a General Electric P42 "Genesis" locomotive, coach, club dinette, and Amtrak business car 10001, to offer RailCamp students a unique opportunity to learn about passenger rail service including safety, operations and security on Thursday, July 12. The three cars will be open for public display from 10 am to 4 pm on Friday, July 13. The display is included in the Park's regular Entrance Fee. The special passenger consist will arrive at Scranton on Wednesday evening, July 11 and depart on Saturday morning, July 14. 
           Amtrak serves more than 500 destinations in 46 states.  During 2006, Amtrak welcomed aboard more than 24.3 million passengers, representing the fourth straight year of record ridership. An average of 67,000 passengers ride Amtrak trains per day.
Located in Scranton, Pennsylvania, Steamtown is open daily from 9:00 a.m. until 5:00 p.m. From I-81, follow exit 185 (Central Scranton Expressway); then, follow the signs to the main entrance at Lackawanna and Cliff Avenues. Additional details regarding interpretive and educational programs and activities may be obtained by calling (570) 340-5200 or toll free (888) 693-9391 during regular business hours, or by visiting the Steamtown web site at www.nps.gov/stea anytime!
-NPS-