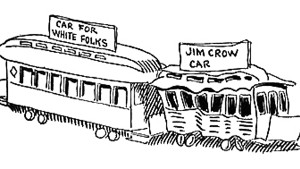 News Release Date:
February 10, 2014
Contact: Bill Nalevanko, 570-340-5186
SCRANTON, Pa. – From the 1880s into the 1960s, a majority of American states enforced segregation through "Jim Crow" laws.These laws were written to provide "separate but equal" accommodations for black people in public facilities, including travel aboard passenger railroads. Steamtown NHS will commemorate Black History Month with a new exhibit, developed by Interpretive Division Park Ranger Barbara Brundage, of images and reflections from that era titled, "All Aboard?"
The coming of the railroad transformed various aspects of American life, and for many it represented freedom and power. Passenger seating on trains revealed contradictions in the American ideals of freedom and equality, though, as seating and the quality of accommodations were determined by race. "All Aboard?" includes images on this era in American history from the Library of Congress and various museums across the country including the California State Railroad Museum and the North Carolina State Archives. Related newspaper articles from the period and a brief "restoration" video of a wooden "Jim Crow" railroad car, Rockdale, Sandow & Southern Railroad (Texas) #3, filmed at its home in the Pacific Southwest Railway Museum, Campo, California, complete the exhibit." All Aboard?" is on display through March 28 at the park's Changing Exhibits Gallery, and is included in the park's Entrance Fee.
Located in downtown Scranton, Pa., Steamtown NHS is open daily from 10:00 a.m. – 4:00 p.m. through March 28; regular park hours, 9 a.m. – 5 p.m. resume on Saturday, March 29. From I-81 follow exit 185 (Central Scranton Expressway); then, follow the brown and white signs to the main entrance at Lackawanna and Cliff Avenues (GPS: N 41.41, W 75.67). General park information is available by phoning (570) 340-5200 during regular business hours, or by visiting the Park website anytime at www.nps.gov/stea.
-NPS-