Date:
April 9, 2013
Contact:
Harold Hagen
, 570-340-5182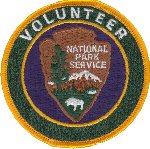 SCRANTON, Pa. - Becoming part of American history is an opportunity that anyone can take. Sure, not all of us are cut out to be heroes, and the positions for being a framer of the Constitution are already taken.Yet, history is full of achievements, large and small, that the National Park Service (NPS) commemorates in the more than 400 park sites it manages.Keeping that history alive, and helping to create memorable moments for visitors, often falls on the shoulders of VIPs - Volunteers-in-Parks.

To guarantee that the history and the stories told at Steamtown National Historic Site remain alive, the Park is presenting a special Volunteer Fair on Saturday, April 13 from 10:00 a.m. to 3:00 p.m. at the park's Theater.The fair will introduce potential volunteers to the site and to the multiple work areas where they can help keep the history and stories of steam railroading alive and relevant for visitors.

Steamtown NHS is a National Park unit dedicated to preserving and interpreting the impact of steam railroading on the development of the United States, primarily during the Industrial Revolution.Volunteer opportunities exist in almost all areas of park operations including Visitor Services, Research and Historical Preservation, Railroad Operations, Locomotive maintenance and repair, and Building and Grounds upkeep.During the event, prospective volunteers will learn about available opportunities, and the specific duties and responsibilities of these positions, from employees, supervisors and volunteers already performing the jobs.Steamtown Volunteer Coordinator John Mucha will welcome guests to the 40-plus acre park, and introduce session coordinators.For further information, contact Ranger Mucha at (570) 340-5198.

Located in Scranton, Pennsylvania, Steamtown NHS is open daily from 9:00 a.m. to 5:00 p.m.From I-81, follow exit 185 (Central Scranton Expressway); then, follow the signs to the main entrance at Lackawanna and Cliff Avenues.General park information is available by phoning (570) 340-5200 during regular business hours or by visiting the Park website, www.nps.gov/stea anytime!
- NPS -