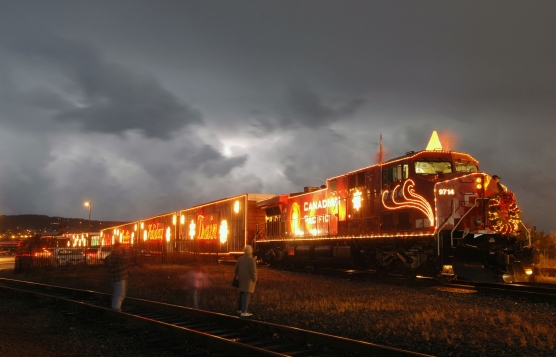 News Release Date:
October 31, 2013
Contact: Kip Hagen, 570-340-5182
SCRANTON, Pa. – SteamtownNational Historic Site will partner with the Canadian Pacific Railway (CPR) to host the company's 2013 Holiday Train on its journey to stock food shelves and pantries across the United States and Canada. The Holiday Train will visit northeastern Pennsylvania on Tuesday, November 26 from 5:15 – 5:45 p.m.; visitors are strongly encouraged to arrive at least 15-30 minutes early. The train will depart Scranton for Binghamton, New York on the former Lackawanna Railroad's mainline, and is expecting to cross the historic Tunkhannock Viaduct between 6:30 – 6:45 p.m.
With the goal of restocking food shelves in the local communities served by CPR, bring a non-perishable food item or cash donation in support of those in need - all donations raised here stay with the food pantry in our community.Items like infant formula, canned meats, and spaghetti sauce are in particular demand for the many that turn to food banks each month. Since 1999, the event has raised more than $7.4 million and over 3 million pounds of food for local food banks in the U.S. and Canada.In 2012, the event at Steamtown NHS helped raise more than 4,500 pounds of food and collected $2,800 in cash donations, in addition to a CPR corporate contribution of $1,000, for the United Neighborhood Centers of Northeast Pennsylvania.
Thousands of people gather trackside at depots, railroad crossings and other unusual venues along CPR's route to enjoy the brightly decorated train that will light up the winter night at Steamtown NHS. The train is decorated with hundreds of thousands of technology-leading LED Christmas lights and for the 15th year, CPR's elves have updated the lighting that adorns the sides of the train that is part of the Holiday Train program. The musicians, who ride in vintage private cars at the end of the 14-car train climb aboard a boxcar in the middle of the train that opens to reveal a stage where they will perform a live holiday concert, inviting visitors to sing along.
Entertainers aboard the 2013 U.S. train include The Claytones and Canadian Country Music Hall of Famer, Tracey Brown. The Claytones – Kelly Prescott, Anders Drerup, Adam Puddington and Pat McLaughlin – winners of the 2013 Galaxie Rising Star Award and are veteran Holiday Train performers.Tracey Brown, a Canadian Country Music Association performer, is a winner of several Juno awards and was part of Canada's most awarded country group, Family Brown, before forming the Juno award winning, Prescott-Brown.
From I-81, follow exit 185 (Central Scranton Expressway) to Lackawanna Avenue, and follow the signs to the park entrance at Lackawanna and Cliff Avenues, (GPS: N 41.41, W 75.67); remember to plan on arriving at least 15 minutes prior to show time! Follow the Holiday Train at facebook.com/HolidayTrain and twitter.com/CPHolidayTrain. For additional information, B-roll video, entertainer bios and digital images, visit the Holiday Train page at www.cpr.ca.
- NPS –