Date:
November 5, 2012
Contact:
Mark Brennan
, 570-340-5244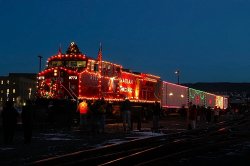 SCRANTON, Pa. - The musicians have been chosen, the whistle stops selected and the lights soon will be hung on the boxcars with care for Canadian Pacific Railway's (CP) U.S. Holiday Train and its goodwill journey for food shelves across the United States. The Holiday Train will visit northeastern Pennsylvania on Wednesday, November 28 at Steamtown National Historic Site in downtown Scranton from 5:45 - 6:15 p.m.; visitors are strongly encouraged to arrive at least 15-30 minutes early. The train will then depart Scranton for Binghamton, New York on the former Lackawanna Railroad's mainline, expecting to cross the historic Tunkhannock Viaduct between 7:00 - 7:15 p.m.
Now in its 14th year of operation, the CP Holiday Train program, powered by an army of employee volunteers, has raised more than C$6.4 million and almost 2.6 million pounds of food donations for local food banks nationally. In 2011, the train helped raise more than 4,000 pounds of food and collected $1,500 in cash donations, in addition to a CP corporate contribution of $1,000 to the United Neighborhood Centers of Northeast Pennsylvania.
Thousands of people gather trackside at depots, railroad crossings and other unusual venues along CPR's route to enjoy the arrival of the brightly decorated train lighting up the winter night at Steamtown NHS. The musicians, who ride in vintage private cars at the end of the 14-car train, hop out and climb aboard a boxcar in the middle of the train that opens to reveal a stage where they will perform a live holiday concert and invite visitors to sing along.
Entertainers aboard the U.S. train include The Claytones and Canadian Country Music Hall of Famer, Tracey Brown. The Claytones - Kelly Prescott, Anders Drerup and Adam Puddington - masterfully spin their melodic, vocal driven, Canadian brand of country music. Canada's National Post listed them as one of the top 5 Canadian Acts to watch in 2012. Tracey Brown is a member of a family of exceptional and celebrated musicians. She was part of Canada's most awarded country group, Family Brown, before forming the Juno award winning, Prescott-Brown. The Family Brown toured extensively and had a syndicated TV show for 13 years.Over her career, Tracey Brown has released more than 20 albums and was nominated for a Juno as Best Country Female Vocalist in 1999.
From I-81, follow exit 185 (Central Scranton Expressway) to Lackawanna Avenue, and follow the signs to the park entrance at Lackawanna and Cliff Avenues, (GPS: N 41.41, W 75.67; or enter 4 Lackawanna Ave, 18503); remember to plan on arriving at least 15 minutes prior to show time!Follow the Holiday Train at facebook.com/CPHolidayTrain and twitter.com/CanadianPacific #CPHolidayTrain.For additional information, B-roll video, entertainer bios and digital images, visit the Holiday Train page at www.cpr.ca.
- NPS -