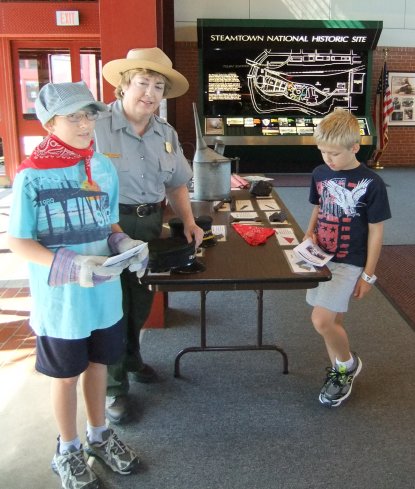 News Release Date:
October 3, 2011
Contact: Mark Brennan, 570-340-5244
SCRANTON, Pa. - The National Park Service's "Teacher-Ranger-Teacher" summer program recently concluded at Steamtown National Historic Site. Steamtown NHS is one of only twenty-five National Park sites in the Northeast U.S. to participate in the nationwide program during 2011.
West Scranton Intermediate sixth grade teacher Mrs. Judy Yazinski worked with Interpretive Park Ranger Suzanne Rozdilski to complete an eight-week program this summer working as a uniformed Park Ranger. Mrs. Yazinski reviewed the Park's elementary education programs, assisted with the Park's public tours, updated the Visitor Center "Please Touch" exhibit, and staffed the Visitor Center desk. She will integrate newly acquired knowledge into her classroom and, in April, will wear her NPS uniform in class during National Park Week while discussing her summer experiences as a Park Ranger with her students.
Mrs. Yazinski comments, "I developed a math and science program, comparing Steamtown NHS and Yellowstone NP, focusing on energy sources, environmental and ecological, geological land formation, and wildlife and integrating them into my Science unit. Additionally, my students will complete a geometric, linear project that will be displayed at Steamtown's History Museum during National Park Week 2012. Moreover, the 'Teacher-Ranger-Teacher' program at Steamtown NHS is evidence that the site is a viable learning laboratory."
The "Teacher-Ranger-Teacher" program began in Colorado in 2003 and in 2007 became a nationwide program. This summer, 149 parks had 221 Teacher Rangers in uniform learning about their national heritage and serving National Park visitors.
Located in downtown Scranton, Pennsylvania, Steamtown NHS is open daily from 9:00 a.m. until 5:00 p.m. Information on Park curriculum-based education programs may be obtained by calling (570) 340-5200 during business hours, or by visiting "For Teachers" at the Steamtown NHS web site, www.nps.gov/stea.
- NPS -

Digital images are available for media releases.