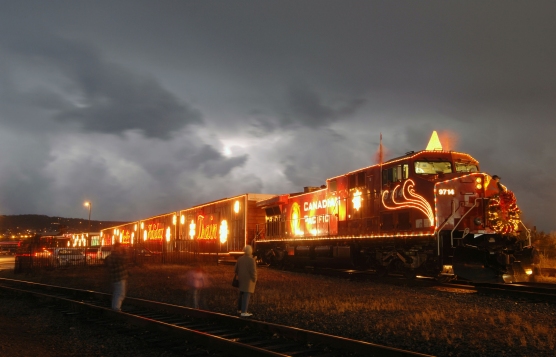 News Release Date:
November 2, 2011
Contact: Mark Brennan, 570-340-5244
SCRANTON, Pa. -Steamtown National Historic Site, downtown Scranton, is pleased to announce upcoming holiday events beginning with Veterans Day weekend, Friday, November 11 through Sunday, November 13! All visitors will be guests of the Park, with entrance fees waived on these days. It's another way to express our nation's gratitude to the men and women who continue to give their all to protect our country.

For the 13th year, North America's longest-running rolling food bank fundraiser, the Canadian Pacific Railway Holiday Train will begin its cross country trip from Steamtown NHS on Saturday, November 26, between 5:45 - 6:15 p.m. The Canadian Pacific's goal is to stock food banks in local communities year-round, and especially at this special time of the year! Bring along non-perishable food items, or cash donations which increase the buying-power of the food banks, and enjoy the free entertainment and holiday festivities!

Steamtown NHS in partnership with the Lackawanna Historical Society (LHS) will present a Program titled Model Trains For All Ages, which will focus on model railroading as a holiday childhood tradition. The event will kick off on Sunday, November 27th with a spectacular Marklin winter train display where experts will be available to discuss the display and explain some of the fascinating scenery designs. Additionally, an exhibit by Angela Trotta Thomas, Lionel's exclusive artist, will also be on display.
On December 3rd and 4th a live steam garden railroad will be on display and visitors can ask questions about this very unique hobby.
On December 10th and 11th, Steamtown will host an "Ask the Expert" session, on Saturday from 11 am to 1 pm and on Sunday from 1 pm to 2 pm. Visitors will have the opportunity to ask questions about the challenges of repairs and other common problems associated with maintaining a model train collection.
And finally December 17th and 18th is "Lionel Days", where experts will present a 1950's Lionel Christmas display with a surprise visit from Santa on both days between 11 am and 1 pm. Special Model Train themed documentaries and films will be viewed throughout the event in the park's theater.
The "Scranton Limited" short train rides will continue operating Wednesdays through Sundays until Friday, December 2. Check the park's website for operating times for these 30-minute train rides, which will operate with a historic diesel locomotive on Wednesdays. There is an additional charge of $5.00 for this ride. Admission to the National Park grounds at Steamtown is $7.00 per adult, daily, ages 16 and older. Children under age 15, accompanied by an adult, are admitted to the Park at no charge. The daily Entrance Fee includes parking and access to the outdoor grounds, the museum complex, walking tours, and the Park movie "Steel and Steam."
Located in downtown Scranton, Pennsylvania, Steamtown NHS is open daily from 9:00 a.m. until 5:00 p.m.From I-81 follow exit 185 (Central Scranton Expressway); then follow the signs to the main entrance at Lackawanna and Cliff Avenues. Additional park information may be obtained by calling (570) 340-5200 or toll free (888) 693-9391 during business hours or by visiting the Steamtown NHS web site anytime at www.nps.gov/stea.