Date:
November 1, 2010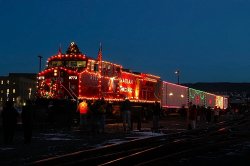 SCRANTON, Pa.
–
The musicians have been chosen, the whistle stops selected and the lights soon will be hung on the boxcars with care for Canadian Pacific Railway's (CPR) U.S. Holiday Train and its goodwill journey for food shelves across the northeastern United States. 


The Holiday Train will visit northeastern Pennsylvania on Saturday, November 27 at Steamtown National Historic Site in downtown Scranton from 6:00 – 6:30 p.m., and visitors are advised to plan to arrive at least 15-30 minutes early. Juno-award winner Melanie Doane, one of Canada's most talented and diverse musicians and entertainers, will provide entertainment on this year's train.

 

The train will then depart Scranton for Binghamton, New York on the former Lackawanna Railroad's mainline, expecting to cross the historic Tunkhannock Viaduct between 7:00 – 7:15 p.m. 


Now in its 12th year of operation, the program has raised more than $4.8 million and almost 2.3 million pounds of food since the first Holiday Train ran in 1999. Thousands of people gather trackside at depots, railroad crossings and other unusual venues along CPR's route to enjoy the arrival of the brightly decorated trains lighting up the winter night. The musicians, who ride in vintage private cars at the end of the 14-car train, hop out and climb aboard a boxcar in the middle of the train that opens to reveal a stage where they perform live holiday concerts and invite crowds to sing along. Canadian Pacific encourages visitors to donate money and/or nonperishable food items that, in the Scranton area, go directly to the United Neighborhood Centers of Northeast Pennsylvania. Additionally, the Canadian Pacific will present a check at each stop.


This year, the CP Holiday Train is launching an activity program aimed to increase awareness of hunger issues by making children part of the solution. "Decorate & Donate" is a fun and educational way for schools and families to help feed their communities.
All donations raised in our community stay in our community.


It's easy to participate:


1.

    

Print and decorate one or more of the Holiday Train designs available at the CP Holiday Train website (www.cpr.ca - click the Holiday Train link and click on "Decorate & Donate" on the right side of the screen). The more creative, the better!

2
.

    

Wrap your art around an empty box, big or small, to be filled with food or cash donations.


3.

    

Take a picture of your artwork and send it to the CP Holiday Train web site – they will post it for you on the CP Holiday Train "Decorate & Donate" photo gallery.


4.

    

Bring your filled "Decorate & Donate" boxes to the CP Holiday Train at Steamtown NHS on November 27 and present them to the United Neighborhood Centers representatives.


From I-81, follow exit 185 (Central Scranton Expressway) to Lackawanna Avenue, and follow the signs to the park entrance at Lackawanna and Cliff Avenues; remember to plan on arriving at least 15 minutes prior to show time! For additional information, "B-roll" video, entertainer bios and digital images, visit
the Holiday Train page at www.cpr.ca.
- NPS -