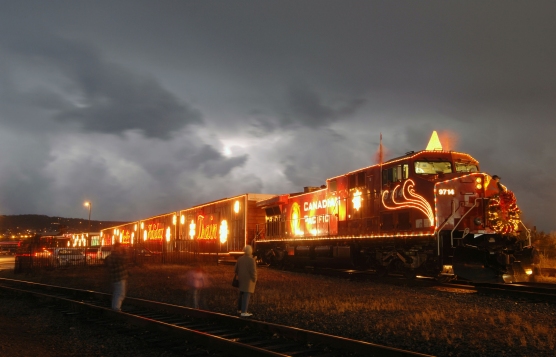 News Release Date:
October 19, 2009
SCRANTON, Pa. –Steamtown National Historic Site, downtown Scranton, is pleased to announce its upcoming 2009 Holiday events beginning with Veterans Day, Wednesday, November 11! All veterans, members of the U.S. Armed Forces and their families will be treated as guests of the Park, with entrance and "Scranton Limited" short train ride fees waived for the day. It's another way to express our nation's gratitude to the men and women who continue to give their all to protect our country.

The Canadian Pacific Railway will begin its Holiday Train event for the 8th consecutive year from Steamtown NHS on Saturday, November 28, between 5:30 – 6:00 p.m. The Canadian Pacific's goal is to stock food banks in local communities year-round, and especially at this special time of the year! Bring along non-perishable food items or cash donations which increase the buying-power of the food banks and enjoy the free entertainment and holiday festivities!

The "Scranton Limited" short rain rides will continue operating Wednesdays through Sundays through Saturday, December 5. These 30-minute train rides depart from the Roundhouse boarding area at 10:30 and 11:30 a.m., and 1:30 and 2:15 p.m., operating with a historic diesel locomotive on Wednesdays. There is a $3.00 additional charge for this ride. Admission to the National Park grounds at Steamtown is $6.00 per adult, daily, ages 17 and older. Children under age 16, accompanied by an adult, are admitted to the Park at no charge. The Entrance Fee includes parking and access to the outdoor grounds, the museum complex, walking tours, and the Park movie "Steel and Steam."

Located in downtown Scranton, Pennsylvania, Steamtown NHS is open daily from 9:00 a.m. until 5:00 p.m. From I-81 follow exit 185 (Central Scranton Expressway); then, follow the signs to the main entrance at Lackawanna and Cliff Avenues. Additional Park information may be obtained by calling (570) 340-5200 or toll free (888) 693-9391 during business hours or by visiting the Steamtown NHS web site anytime at www.nps.gov/stea.