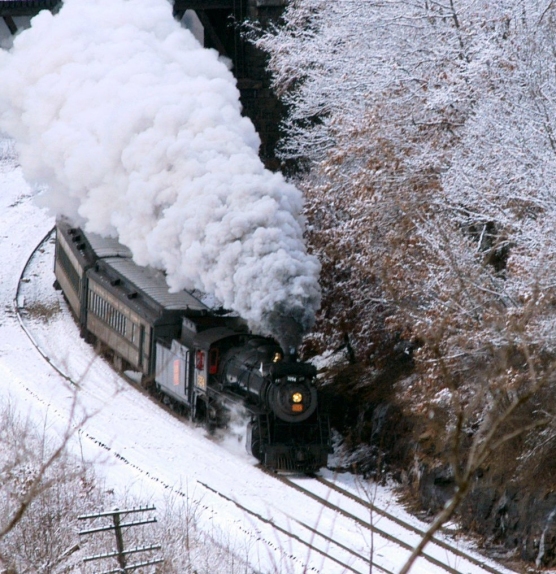 News Release Date:
November 20, 2007
zSCRANTON, PA – As Old Man Winter takes hold of our region, Steamtown National Historic Site in Scranton, PA will offer a mid-winter steam excursion to the annual Ice Harvest Demonstration in Tobyhanna, PA. On Saturday, January 19, 2008, a historic steam locomotive will travel to the Tobyhanna Station, and excursionists will be transported to Mill Pond #1, courtesy of the Lackawanna Valley Heritage Valley Authority, where historic tools and equipment will be used to gather blocks of ice from the pond. The replica ice house stores enough ice to last well into the summer months. The Tobyhanna Ice Harvest excursion departs at 10:00 a.m. and returns at approximately 3:00 p.m. Tickets are $31 – ages 17-61, $26 – ages 62 and older, $20 – ages 6 to 16 years old. Ages 5 and under require a "no charge" ticket.   The $6 daily Park Entrance Fee is included in the ticket cost.  Reservations may be made by phoning (570) 340-5204, 9:30 a.m. – 4:30 p.m. daily (10:30 a.m. – 3:30 p.m. after January 6, 2008).
Steam-powered train excursions are rare in the winter months, and there is always the chance that the pond may not be frozen.  In that event, tours of the village of Tobyhanna, and the Mill Pond #1 ice house and restored 1908 boxcar, will be conducted as an alternative. The 1908 Tobyhanna Station will be open and light refreshments available through the Pocono Mountains Chapter of the National Railway Historical Society.


Located in Scranton, Pennsylvania, Steamtown is open daily from 9:00 a.m. to 5:00 p.m. Winter hours of 10:00 a.m. – 4:00 p.m. go into effect January 6, 2008, as mentioned above. From I-81 follow exit 185 (Central Scranton Expressway); then, follow the signs to the main entrance at Lackawanna and Cliff Avenues. Additional details regarding interpretive and educational programs and activities, and weather-related cancellations may be obtained by calling (570) 340-5200 or toll free (888) 693-9391, or by visiting our web site at www.nps.gov/stea.

Digital images are available for media releases.
-NPS-