Windy Moraine Trail
Distance
Loop of 1.5 miles in length
Terrain
Hilly
Vegetation
Beech-maple forest, fields, and pine plantation
Comments
A self-guiding brochure with the theme of biodiversity is available at the trailhead. From the Windy Moraine Overlook, you can see Glen Lake, Lake Michigan, and the Sleeping Bear Dunes

---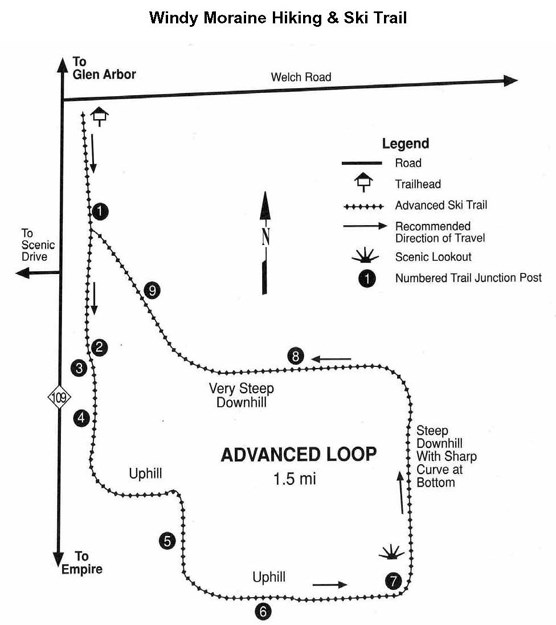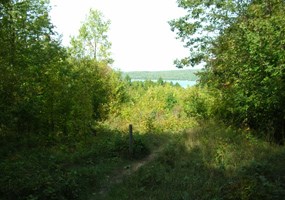 The Windy Moraine trail takes you through a field to the moraine left from when the last glaciers melted about 10,000 years ago. You will climb to the top of the hill on a modest incline through a beech-maple forest and a pine plantation. From the top of the moraine, you will get a few good views of Glen Lake. Views are best when the leaves are off the trees, but even in the summer you will get some nice views of the lake.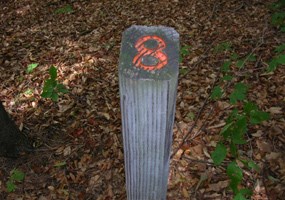 As you hike the trail, you will see 9 numbered posts. Be sure to pick up a trail map at the trailhead and stop at each post to read about the trees, birds, or other natural resources described.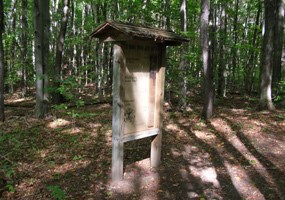 About half way through the hike, you will find a Soil Exhibit explaining the type of soil in this area which supports the plants and animals who make this their home.
If we think of soil at all, we tend to think of it as commonplace and unlimited. The truth is that soil is an irreplaceable resource of great complexity, beauty, and fragility. Along with air and water it interacts with the web of life, and must be protected to maintain a healthy environment for living things.
The Kalkaska Soil Series covers a million acres of Michigan's upper and lower peninsulas, one of the factors that led to it being chosen as the official State Soil. Kalkaska is a well-drained soil of cold climate that formed on glacial sand and gravels since the retreat of the last ice some 10 to 12 thousand years ago. It is common in the Sleeping Bear Dunes area. Sometimes called "loamy gold" because of its woodland productivity, the typical natural forest cover includes sugar maple, American beech, yellow birch, and ash.


Last updated: February 13, 2018