Pierce Stocking Scenic Drive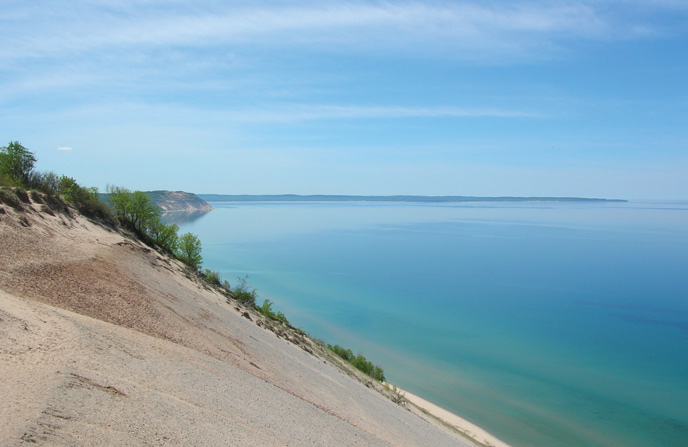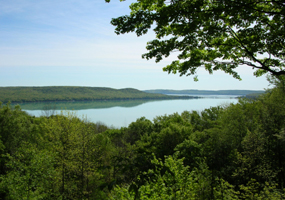 World-class vistas will give you a feel for Michigan that you may have never thought possible! The Scenic Drive will definitely reinforce why Congress saw fit to designate this area as a National Lakeshore within our great National Park system.
This is a view of Glen Lake from the Glen Lake Overlook stop on the Scenic Drive. If you look closely, you can see M-22 separate Big and Little Glen Lake. A picture can not describe what you'll see, so I guess you'll just have to visit the park and see for yourself.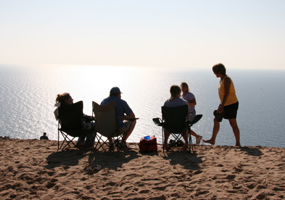 One of the most spectacular views in the Lakeshore is at the Lake Michigan Overlook on the Pierce Stocking Scenic Drive. Take the short walk from the parking lot at # 9, 10 and you too can enjoy the view. Bring a chair if you want to stay a while or just sit in the sand. Sunsets from here are outstanding.
The observation deck at the Lake Michigan Overlook is about 450 feet above the lake level, and the angle to the lake is very steep. The dunes are perched on top of a moraine bluff made of a mixture of rocks and sand deposited by the glacier when it melted.
Although going down the bluff is not prohibited, you are encouraged not to do so. Running down to the lake can be dangerous for yourself and for others below you, and erosion of the bluff face is obvious as you look down to Lake Michigan where others have climbed the bluff.