Lake Michigan Overlook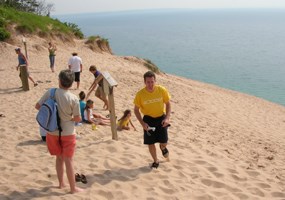 This overlook, 450 feet above Lake Michigan, provides a magnificent view of the shoreline. If the visibility is good, to the south you can see Empire Bluffs 4 mi. away and Platte Bay 9 mi. away, both within the 106 square miles area of Sleeping Bear Dunes National Lakeshore. Still further south is Point Betsie, the farthest point of land, 15 miles away as the crow flies. To the west, it is 54 miles across the lake to Wisconsin. Lake Michigan is the largest lake completely within the United States and is the fourth largest fresh-water lake in the world. It has had a profound influence on the region, including the formation of the sand dunes.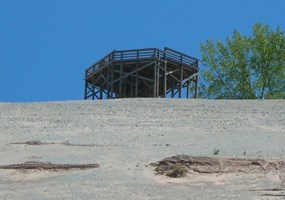 Lake Michigan is a product of the Ice Age, formed by a great lobe of ice advancing down the continent. Look down the slope of the bluff; notice that it is not pure sand – there are rocks as well. This is not a sand dune, but rather a glacial hill. Also, notice the black soil layer at the top. Observations like this help geologists to reconstruct the past.
This photo was taken with a telescopic lense from the beach below the Lake Michigan Overlook Platform. You can get to this point by walking up the beach from North Bar Lake.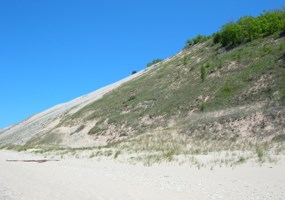 In recent times, the bluff has been wearing back at the rate of about a foot per year. Waves wear away the base the bluff and sand and rocks from above slide down to the beach. This process has gone on for many years, so we can infer that this hill once extended much further out into the lake. The shallow waters offshore also seem to indicate that a peninsula once extended from here about 2 miles out into the lake. This means that the site of this overlook used to be inland, protected from the strong winds off the lake. Plants took hold and, through decay, produced the thin layer of soil that we see here. As the waves wore back the old peninsula, this site got closer and closer to the lake. The resulting wind exposure produced an active dune environment.
CAUTION: Descending the Lake Michigan bluff causes erosion and is dangerous. The steep grade makes footing difficult and there is danger from falling rocks. The return climb is extremely strenuous!
Last updated: April 10, 2015