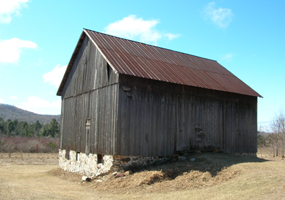 The original owner of 80 acres of this parcel was Andrew Tuffner, who sold it to Thomas Kelderhouse on 19 September 1865. Kelderhouse sold it to Ole Olsen on 24 January 1877. Mr. Olsen then sold the property to Carsten Burfiend in 1879, and bought it back two years later.
The land was settled by Olsen, who emigrated from Kristiansand, Norway, and landed on North Manitou Island, where he met his wife, Magdalena Burfiend. Although the boundaries of this 120 acre farm have remained constant, ownership changed many times: for most of the time, however, it has been owned by the Olsen family. After Ole Olsen built the farm, his son Charles bought it in 1891 and farmed there until 1915 when he married and built a farm on M-22. He later sold this farm to Albert and Ida (Dago) Prause. In 1954, Prause sold the farm to Howard Olsen, a grandson of Ole and a nephew of Charles. Howard Olsen's widow, Bertha, lived in the house until her death.
The main crops were wheat and potatoes.
A short hike of about 1/3 mile east from the buildings will take you behind Narada Lake, where herons, geese, and loons are often seen.