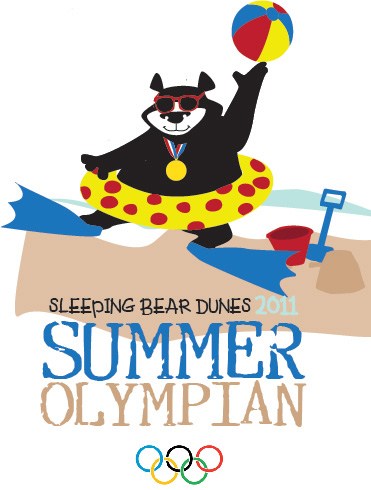 News Release Date:
August 24, 2011
Join park rangers for another Families United with Nature (FUN) day at Sleeping Bear Dunes National Lakeshore (National Lakeshore) and this time compete in the FUN Summer Olympics! Meet park rangers at Esch Beach (south of Empire) on Saturday, August 27 at 2:00 p.m. Families will make their own team flags and compete in a variety of fun summertime games! Be sure to dress in clothes and shoes you do not mind getting wet and sandy. Reservations are not required, but are recommended by contacting Park Ranger Lisa Griebel at 231-326-5134 or Lisa_Griebel@nps. gov.

FUN is a free outdoor activity club for all types of family groups (no matter the size and composition) hosted by the National Lakeshore. The club provides a fantastic opportunity for families to get outdoors together and try their hand at something new, breathe a little fresh air, and meet other families who enjoy being outside. FUN meets monthly, with additional special events held throughout the year.

When you join the club at any FUN event, you receive a free journal to document your outdoor activities and have the opportunity to earn rewards as a family for active participation. All FUN activities are free; however, a Sleeping Bear Dunes National Lakeshore Park Entrance Pass is required to be displayed on the dashboard of your vehicle. The Entrance Pass costs $10 and is good for a full week, or an Annual Park Entrance Pass may be purchased for only $20. Both passes can be purchased at the Philip A. Hart Visitor Center in Empire.

For more information, please call the National Lakeshore at 231-326-5134 or visit their website at www.nps.gov/slbe. Also, check out their Facebook page at www.facebook.com/sbdnl.