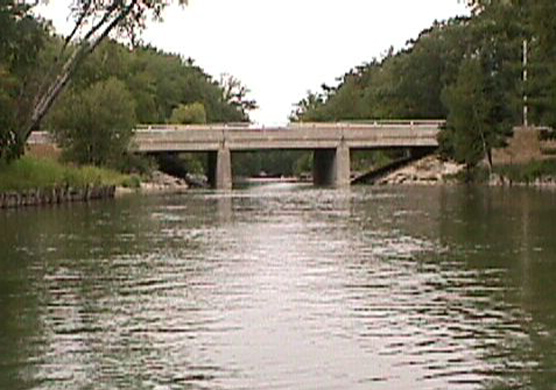 News Release Date:
October 26, 2006
Contact: Michael Duwe, (231) 326-5134, ext. 113
The National Park Service (NPS) has begun the process of planning a restoration project and associated Environmental Assessment (EA) for the former Waterwheel and Casey's Corner canoe livery sites, located along the Platte River, in Sleeping Bear Dunes National Lakeshore. The sites are located upstream of the intersection of the Platte River and highway M-22, along both banks, for a distance of approximately 300 feet. The National Lakeshore contains only 4 streams throughout the 72,000 acre park, and these streams are important to the wildlife and visitors that utilize them. The purpose of this project/EA is to explore the various ways in which the NPS might stabilize and restore the form and function of the Platte River channel adjacent to these disturbed sites. 
The project site was formerly the location of two canoe liveries that were removed several years ago, but their development impacts on the Platte River were never addressed.  The riverbanks were lined with wood and concrete and then filled with soil, which is now falling into the river as sections continue to fail and cause subsequent bank erosion.  In addition, a steel sheet pile wall was placed into the south river bank at the Casey's Corner site in the early 1990s. This was part of a system to prevent hydrocarbons from entering the Platte River through groundwater migration during a contamination clean-up, caused by nearby underground fuel storage tanks.  The steel sheet and riverbank were covered with six-inch diameter cobbles.  The contamination at Casey's was cleaned up and the steel sheet and cobbles are no longer needed for their intended purpose. These features prevent the formation of natural channel banks and vegetation.  The failing walls not only pose a visitor safety hazard, but also a resource hazard, as the material being added to the river degrades the habitat and visitor use qualities.    
The project/EA process is just beginning, and we welcome your ideas on the future of this restoration project. We need your ideas on what impacts and issues we should consider as we plan the restoration. We request that you provide your comments to us by November 30, 2006. (This is a 30-day extension.) The comments you submit during this "scoping" phase of planning will be incorporated into a range of alternatives and impact analyses in the EA. The EA will then be made available for further public review and comment, scheduled for release this winter, and we will again solicit your input. Comments may be submitted by clicking here or they can be mailed to the Lakeshore at the above address.
Download this letter in pdf format.