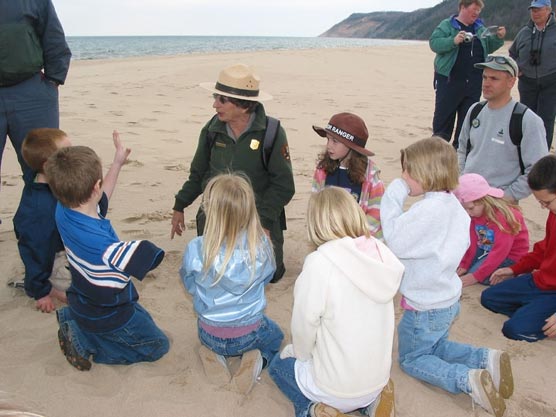 News Release Date:
April 13, 2009
Contact: Lisa Myers, 231-326-5134
On Saturday, April 25, children of all ages are invited to become Junior Rangers at Sleeping Bear Dunes National Lakeshore on National Junior Ranger Day. Special activities begin at 10:00 a.m. and are planned throughout the day, with a badge and swearing in ceremony at 3:00 p.m.  To earn a Junior Ranger badge and an official certificate, prospects will just need to go on one ranger-led program (morning or afternoon) and complete a few activities in the free Junior Ranger booklet that will be available at the Visitor Center in Empire. Adults must accompany children at all times.
"We are excited about celebrating the 3rd Annual National Junior Ranger Day," said Lisa Myers, Chief of Interpretation and Visitor Services at Sleeping Bear Dunes National Lakeshore.  "All across the country, from Yosemite National Park in California to Shenandoah National Park in Virginia, people of all ages will go outside to explore, learn and protect their national parks." At the National Lakeshore, Park Rangers will offer the following programs:
10:00 a.m.:  Dune Discovery Walk - Meet at the base of the Dune Climb on Highway 109, two miles north of Empire.


1:00 p.m.: Beach Discovery Walk - Meet at the Cannery (large red building at the end of Highway 209) in the historic village of Glen Haven north of the Dune Climb.


3:00 p.m.:  Junior Ranger Ceremony - Meet at the Visitor Center to take the Junior Ranger oath and receive a badge and certificate. There will be light refreshments and prizes for all.
All activities are free; participants need only display an entrance pass on their vehicle dashboard whenever and wherever they are recreating within the park boundaries.  Passes may be purchased at the Visitor Center, Platte Point parking area, and Platte River Campground ($10/vehicle, valid for seven days; or $20/vehicle, for an entire year).
For more information about the schedule or other Sleeping Bear Dunes National Lakeshore activities, please call the Visitor Center at 231-326-5134.