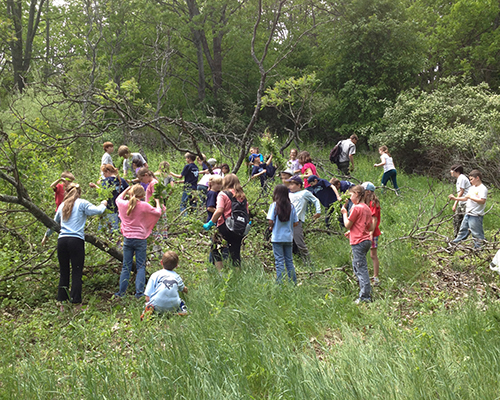 News Release Date:
July 22, 2013
Join neighbors and parkrangers in celebrating our Great Lakes home during Great Lakes Restoration Celebrations July 27 and August 31 from 10:00 a.m. to noon, or at weekly excursions through August 11–all at Sleeping Bear Dunes National Lakeshore (National Lakeshore). 
The Great Lakes Restoration Initiative (GLRI) continues to fund many ecological restoration projects around the Great Lakes, including those at the National Lakeshore. In addition, the GLRI funds educational programs like these, intended to inform the public about the threats posed to the Great Lakes by invasive species.
Without healthy limits like predators, invasive species bully out our natives for survival. By participating in these celebrations or excursions, you can fight off these bullies.
Great Lakes Restoration Celebrations - July 27 and August 31 (10:00 a.m. - 12:00 p.m.). Meet at the Dune Climb entrance to the Sleeping Bear Heritage Trail. New habitat created in disturbed areas like the edges of this new trail are magnets for invasives. With your help and a little bit of fun, we can stop these bullies in their tracks. Celebrations will include native plantings, weed pulling competitions, themed song and poem contests, commentary recordings for future educational videos, and more!
Great Lakes Restoration Excursions - Weekly through August 11 
Photography that Restores – Tuesdays from 10:00-11:30 a.m. at Good Harbor Beach, and Thursdays from 4:00-4:45 p.m. at Maritime Museum Beach. Walk the beach with a Park Ranger and see Sleeping Bear in a new light. With new photo tips and tricks every week, learn to use your camera not only to record, but to help restore the beauty you treasure at the National Lakeshore. 
Tall Tales on the Trail (5-mile round trip ride, 1.5-2 hours long) - Wednesdays at 7:00 p.m. at D. H. Day Log Cabin. Share stories of invasions and excursions.  Learn legends of famine, forest fires, and fame. Join park ranger for a leisurely bike ride through time and restore Sleeping Bear's heritage with the oral tradition of lore.
Programs are free. Participants need only purchase the Park Entrance Pass or have an Annual Pass displayed in their vehicle to join in the fun. Please call 231-326-5135, ext. 328, to make group reservations and/or ask questions, or visit the park's website at www.nps.gov/slbe. Information can also be found on their Facebook page at www.facebook.com/sbdnl and Twitter at https://twitter.com/#!/SleepingBearNPS