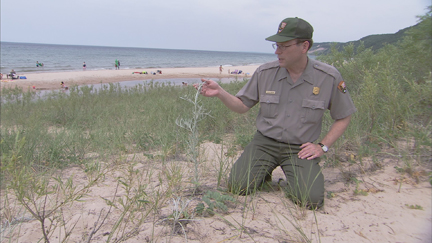 News Release Date:
January 27, 2012 Steve Yancho, Chief of Natural Resources at Sleeping Bear Dunes National Lakeshore, retired on December 31, 2011 after 36 years with the National Park Service - nearly 34 of them at the Lakeshore. Yancho, a Michigan native and graduate of the Michigan Technological University School of Forestry, started with the National Park Service in 1974 as a seasonal ranger. After a series of appointments at Isle Royale National Park and Fire Island National Seashore, he began working at Sleeping Bear Dunes in 1978 and had been there ever since.  
During his tenure at the Lakeshore, Steve held several positions and a variety of responsibilities, including law enforcement as a ranger first on South Manitou Island, then the Platte River District, and a stint as Chief Ranger; Fire Management Officer, Lands Officer, and Hazardous Materials Specialist, until ultimately becoming the Lakeshore's first Chief of Natural Resources in 2003. As South Manitou Island Ranger, Steve was awarded the Department of Interior Valor Award in 1980 for his rescue of a drowning teen in the waters of the Manitou Passage. After his appointment as Chief of Natural Resources, he made it a professional program, widely respected among peers. Steve's initiative and diligence led to numerous accomplishments: The Lakeshore anchors the entire Great Lakes population of the endangered Piping Plover. His disturbed lands program has completely restored hundreds of acres of coastal dune and forest habitat, and controlled thousands of acres of invasive plants. He has led pioneering work on the investigation of bird die-offs due to botulism outbreaks related to invasive species in the Great Lakes. In one way or another, Steve has influenced every natural resource success that this park has had in the past three decades, and in 2009, he was presented the Midwest Regional Director's Award for Natural Resource Management. As U.S. Geological Service colleague Walt Loope said, using a football analogy, "He's done everything but lime the field."
Steve's hard work, honesty, and courtesy earned the respect of people in local communities, even when relations were strained with the National Park Service. Steve noted that he retires with mixed feelings; "On one hand, I look forward to the adventures I hope to discover on the road ahead, but on the other, a big part of my life and passion will be left behind." He expressed thanks to colleagues in and out of the NPS, saying, "Knowing and working with each of you has been a big part of the special experience I have lived since I began with the NPS in 1974. It is not only the resources that make this a special place to work, but the people I have had the pleasure of working with. The passion and dedication you all bring to your work has made my many years with the NPS memorable and enjoyable."
Steve and his wife, Dee, plan to enjoy retirement and travel, and to continue to spend time with their three grown sons, all of whom have worked for the National Park Service and/or Eastern National Cooperating Association bookstore at the Lakeshore.