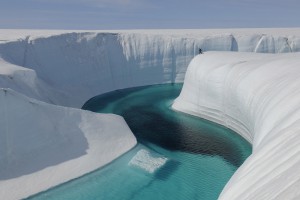 News Release Date:
April 22, 2013
Sleeping Bear Dunes National Lakeshore (National Lakeshore) will be showing two screenings of the acclaimed documentary Chasing Ice; the story of one man's mission to change the tide of history by gathering undeniable evidence of our changing planet. There is no charge for admission.
Chasing Ice follows filmmaker James Balog across the Arctic on a bold expedition to deploy revolutionary time-lapse cameras capturing a multi-year record of the world's changing glaciers. With a band of young adventurers in tow, Balog battles untested technology in brutal, subzero conditions. His hauntingly beautiful footage compresses years into seconds and captures ancient mountains of ice in motion as they disappear at a breathtaking rate.
The Great Lakes region is experiencing climatic changes such as increased temperatures, changes in precipitation patterns, and a reduction in winter ice.  These changes have effects on the natural and cultural resources around the lakes, as well as on recreation. "One of the most precious values of the national parks is their ability to teach us about ourselves and how we relate to the natural world. This important role may prove invaluable in the near future as we strive to understand and adapt to a changing climate." - National Park Service Director Jon Jarvis.
The running time is one hour and 15 minute
The two free showings of Chasing Ice will be held on April 27 at 2:00 p.m. and 4:00 p.m. in the National Lakeshore Visitor Center Auditorium in Empire. Reservations are recommended. Seating is limited to 100 people per showing and those with reservations will be seated first. Please call 231-326-5135, extension 328, for details and to make reservations.