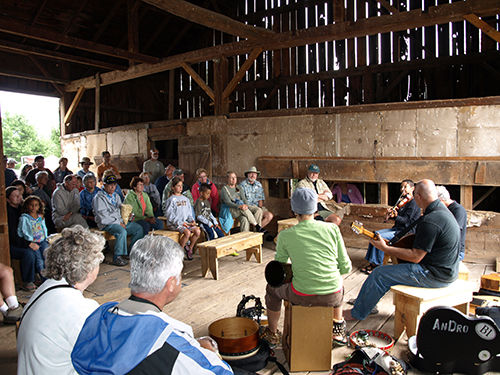 News Release Date:
August 5, 2013
History comes alive at six historic sites during the annual Port Oneida Fair at Sleeping Bear Dunes National Lakeshore (National Lakeshore). The Port Oneida Fair will be held on August 9 and 10 from 10:00 a.m. to 4:00 p.m. Each of the six sites has its own theme and special events.
Thoreson Farm #1
Browse the artisans at work at the Thoreson farm site. Coil basket making, pottery creating, toothbrush rug making, and blacksmithing will be demonstrated, along with the carving of Native American flutes and demonstration of traditional Ojibwa arts and so much more. Children's activities will be featured, horses to pet, as well as storytelling and music. New at Thoreson this year is the Bay Button Bunch featuring vintage buttons and sharing the history of them. Spend the evening under the stars on Saturday night from 9:00 p.m. - 11:00 p.m. for an astronomy event with park rangers and the Grand Traverse Astronomical Society.
Olsen Farm #2
New this year at the Olsen Farm is Michael Deren presenting "The Past in Person" on Friday only, at 12:00 noon and 2:00 p.m. Deren plays a Schooner Captain of 1875 who sails the Great Lakes delivering passengers and cargo to ports from Buffalo to Chicago to Sault Ste. Marie. Join the crew! Raise the sails!  
Dress up in costume and have an "old time" family picture taken in front of the wagon in the barn. Enjoy the scents of historic food demonstrations. Other activities include butter making, soap making, quilters, dulcimer music and children's games.
Enjoy dinner at the third Preserve Historic Sleeping Bear Chicken BBQ on Friday, August 9, serving from 4:30 p.m. - 6:30 p.m. and music until 8:00 p.m. at the Olsen Farm. The BBQ is a fundraiser for the Port Oneida Fair. Dinner includes half a chicken, potato salad, roll, beverage and cake. Tickets are $15 each and should be purchased in advance online at www.phsb.org.
Schoolhouse #3
The one-room school will be in session at 11:30 a.m. and 2:00 p.m. on Friday and Saturday. Don't be tardy!
Burfiend #4
Live Music is the featured attraction at the Burfiend Barn. The music was chosen to provide a variety of music that would have been performed in homes and at barn dances in the Great Lakes area during the Port Oneida historic period of 1855 – 1945. At a break in the music, take a walk around the site and watch Early American Cricket played in the former field, play some turn-of-the-century outdoor games, look at early American hand tools, and learn about timber framing by putting together the scaled down timber bent available on site.  
Friday, August 09
12:00 noon Sue Wood and Friends - Playing familiar traditional tunes on the accordion and other instruments from America's past.
1:00 p.m. Mike Brethren - Learn to Play the Harmonica. Harmonicas will be provided to all who choose to attend.
3:00 p.m. Sue Wood and Friends - Returns to play more familiar traditional tunes on the accordion and other instruments from America's past.
Saturday, August 10
12:00 noon Andy Nester - An annual tradition at the Port Oneida Fair with lively accordion music that gets you up off your chair to dance.
1:00 p.m. Saldaje - Shaun Anchak and Melonie Steffes - Playing traditional and original music with styles that are Celtic and Maritime with modern influences.
2:00 p.m. - 4:00 p.m. Learn to Square Dance - Bob Saddler and Friends - Get a feel for how people who lived in Port Oneida spent their free time.
Kelderhouse Farm #5
The Kelderhouse farmhouse will be open to the public and family members will be present with photos and memorabilia. The farm is also the site for a small Civil War encampment. It includes an infantry with union soldiers and their equipment, as well as a field hospital with period surgical instruments and nurses demonstrating bandaging. A first person impressionist will feature Senator Jacob Howard, U.S. Senator from Michigan during the 1860s, which covered some of the Civil War Years. On Saturday, August 10, at 12:00 noon the annual Memorial Service for the six Civil War Veterans buried in the Kelderhouse cemetery will be held next to the farm. The public is invited to attend.
Dechow Farm #6
Working farm activities are the featured attraction at the Dechow Farm site. Visitors will see a team of oxen and horses mowing grass in the fields, raking hay, and volunteers using a hand press hay baler to bale hay. Visitors can also view a restored Fairbanks Mores Model Z Hit and Miss Engine and a McCormick Deering Model M, grinding corn and pumping water, much as they did when the farm used simple engines to complete many farm tasks. Visitors at the Dechow farm will be able to take a ride in a horse and wagon through the farm field. Musicians will appear under the farm courtyard maple tree to serenade visitors as they stroll around the farm to take in weaving and spinning demonstrations, watch honey extraction from a bee hive, see big wheel bikes ride past them on the drive to the farm, learn wood working, corn shelling and tour the barn.  
The Port Oneida Fair is a free event, but you must purchase a Park Entrance Pass and display it in your vehicle. Please call 231-326-5135, ext. 328, to make reservations (if you plan to bring a group), or ask questions, or visit their website at www.nps.gov/slbe. Program information is also available on the National Lakeshore's Facebook page at www.facebook.com/sbdnl and Twitter feed at https://twitter.com/#!/ SleepingBearNPS.