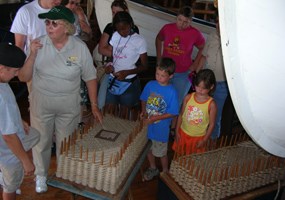 Coming to the park this spring with a class? Here are our visitor center exhibition scavenger hunts:
1st and 2nd grade scavenger hunt
3rd and 4th grade scavenger hunt
5th grade scavenger hunt (answer key)
Sleeping Bear Dunes National Lakeshore is an outstanding natural classroom that provides educational opportunities to many schools and institutions each year. We hope you will use the resources here to plan a trip to the park or to share the information about this beautiful area of Michigan with your students in the classroom.
Sleeping Bear Dunes was created to preserve the outstanding natural features of this area including 71,000 acres of dunes, beaches, forests, inland lakes and rivers, and glacial phenomena. It also preserves cultural resources that reflect Great Lakes maritime and Michigan agricultural history.
Education is a primary mission of the park. Our goal is to provide high quality programs and services which include self-guided and ranger-led activities. If your school group is planning to come to Sleeping Bear Dunes National Lakeshore, you may be eligible for an Education Fee Waiver. We have also included some guidance to help you Plan a Field Trip.
Sleeping Bear Dunes is an expansive classroom filled with learning opportunities. Here are a few examples to wet your appetite for a Field Trip...