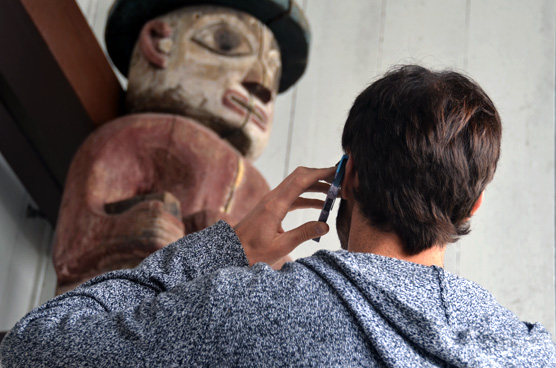 News Release Date:
July 14, 2014
Contact: Park Information Officer, (907) 747-0132
By Michael Hess, Park Ranger
SITKA NATIONAL HISTORICAL PARK -- When Europeans first laid eyes on indigenous coastal villages in Southeast Alaska, wooden bears and ravens unblinkingly returned their gaze from their positions on intricately carved totem poles. Traders and travelers marveled at the skillfully crafted carvings standing at the water's edge. What do they mean? Where did they come from?
If only those early mariners could have taken Sitka National Historical Park's cell phone walking tour, many of their questions would have been answered.
In 2009, Sitka NHP Superintendent Mary A. Miller augmented the park's ranger-led tours with a self-guided interpretive tool – cell phone walking tours. Faced with 120,000 annual park visitors, 25 totem poles to interpret, and limited staff, Superintendent Miller saw an opportunity to use technology for interpretation. Five years later, more than 12,000 visitors have toured the park's totem poles from their phones. According to statistics collected by mobile tour vendor OnCell Systems, the average tour is 44 minutes – the same length as a ranger-led program.
"The cell phone walking tour certainly isn't intended to replace the function of our talented park rangers. Instead, it offers a flexible interpretive experience for visitors to understand and appreciate our unique cultural objects," Superintendent Miller said.
Sitka rangers lead Totem Walk programs several times each day during peak visiting hours, but the park maintains steady foot traffic throughout the day. Not every visitor arrives when the programs are scheduled – or even when the visitor center is open. During the summer months, the park's trails remain open long after the visitor center closes.
"It's a treat to review the cell phone tour call logs and see that people are using this service to enrich themselves with Sitka's cultural resources at 10 or 11 in the evening," said Superintendent Miller.
Whether visitors tour the Totem Trail mobilely during business hours or long after the visitor center closes, cell phone tours allow freewheeling, late night, or self-sufficient visitors to learn about the park's resources at their own pace at no cost – other than a few minutes off their cellular plan.
"This is simply another method to deliver crucial information to develop an understanding and appreciation of the significance of the totem pole art form and the cultures they represent," Superintendent Miller said.
After dialing a toll-free number, a woman's voice leads visitors down the forested Totem Trail where the park's totem poles are displayed: "As you begin your journey at the entrance to the temperate rainforest, you are a witness in another time. You will experience some of the skills of these creative and talented artists, of their forest and ocean world, and of their respect for every living thing in it."
Moving down the mile-long loop, visitors can pause the tour, skip forward, or move backward. The narrator starts and stops at the push of a button. By dialing the number posted on small signs affixed to the totem poles' non-historical support structures, visitors can completely control their self-guided tour.
From time to time, visitors dial the code to leave feedback for park management – and the reviews are glowing.
"This is a spectacular service. As we walk through these incredible places without the guide, it allows us to be self-guided and informed. Thanks so much," said one caller with a Seattle phone number.
"I just want you to know that this walking tour has been wonderful," said another caller from Anchorage. "It made the difference between really understanding what I'm looking at versus just walking through a nice park and seeing a bunch of totem poles."
Stacked and interlocking on red cedar poles, the familiar faces of bears and ravens peered outward from the shore toward wondering traders and travelers. Two hundred years later, 120,000 visitors each year marvel at the totem poles at Sitka National Historical Park in an interpretive experience available 24/7 thanks to the park's rangers, wayside exhibits – and its cell phone walking tours.