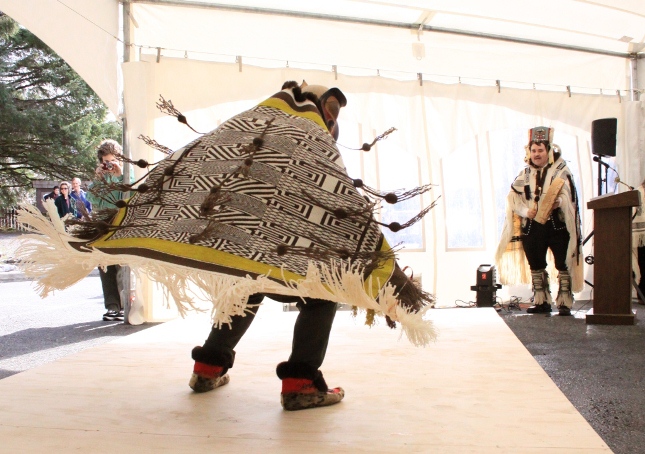 News Release Date:
June 10, 2014
Contact: Public Information Officer
By Michael Hess, Park Ranger, Sitka National Historical Park
SITKA, AK -- Usually, the mountain goat wool that Tlingit weaver Teri Rofkar spins into yarn for her Raven's Tail robes comes to her. Handful by handful, the material arrives in the mail from hunters who are harvesting mountain goats for food and from hikers who collect the clumps left by shedding goats .
Late last summer, Teri, whose Tlingit name is Chas' Koowu Tláa visited Glacier Bay National Park & Preserve for the first time in years with a special-use permit to collect mountain goat wool and harvest spruce roots – continuing her decade-long relationship with the park and a lifelong connection with the place. Glacier Bay managers invite Teri to speak about her art at evening programs whenever she makes it up to the national park from her home in Sitka, which she has done just a few times in the past decade.
Being Tákdeintaan Tlingit, when Teri goes back to Glacier Bay, she goes to her ancestral land. Unlike many of the half-million visitors to this national park on the Alaskan panhandle, her deep relationship to the land goes beyond the incredible beauty of the landscape, or even the use of the resources. Teri's connection comes from knowing that Tlingit hunters, her ancestors, scaled the wooded mountainsides to the rugged peaks, bringing the goats and their precious fur down to the villages where women first wove the intricate Raven's Tail robes.
When she weaves her contemporary Raven's Tail robes in the same ancient style, she shares with the world something she calls place. Just as a house is different than a home, the place Teri's art embodies isn't necessarily a location, rather it's a complex historical, cultural, and spatial context that she builds into each of the objects she creates. But these connections aren't easily made without interpretation from a guide. Teri is that guide.
During her public presentations, Teri discusses not only the meaning and process behind wool gathering, but she also shares how the patterns she weaves communicate contemporary themes. In these programs she talks about her personal journey to resurrect a traditional weaving style that largely disappeared in the century after European contact. The disappearance of the Raven's Tale tradition tells a sad story about the loss of Tlingit culture. Its reemergence, thanks to Teri and other traditional weavers, speaks to a people's determination to retain their cultural identity – and place in the world.