Commercial Filming and Photography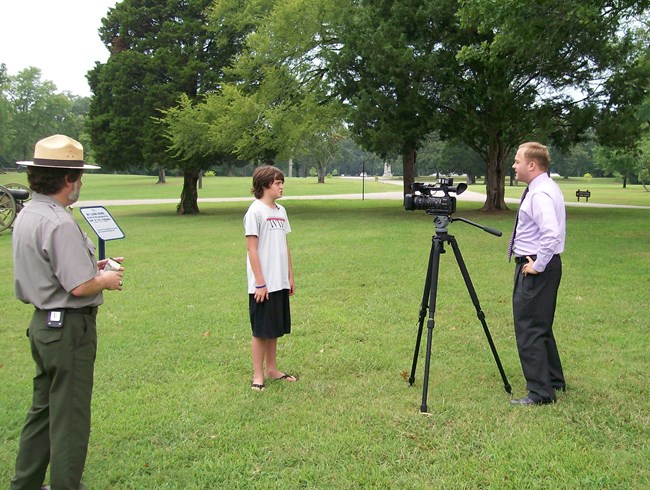 Commercial Filming
Changes to Commercial Filming Permits on Park Land
On January 22, 2021, the US District Court for the District of Columbia issued a decision in Price v. Barr determining the permit and fee requirements applying to commercial filming under 54 USC 100905, 43 CFR Part 5, and 36 CFR Part 5 are unconstitutional. The National Park Service is currently determining how this decision will be implemented.
Following the recent court decision, the National Park Service will not be implementing or enforcing the commercial filming portions of 43 CFR Part 5 until further notice, including accepting applications, issuing permits, enforcing the terms and conditions of permits, issuing citations related to permits, or collecting cost recovery and location fees for commercial filming activities.
As regulations regarding commercial filming permits are being reassessed, those interested in commercial filming activities at Shiloh National Military Park are encouraged to contact the park directly for more information about filming in the park and to discuss how to minimize potential impacts to visitors and sensitive park resources.
Do I need a permit to film?
Currently, the National Park Service is not issuing commercial filming permits, but is in the process of evaluating how best to regulate filming activities that affect visitors and park resources. All applicable laws and regulations governing activities and public use in parks still apply, including park hours and areas open and closed to the public. Videographers, filmers, producers, directors, and other staff associated with commercial filming are reminded that rules and regulations that apply to all park visitors still apply to filming activities even if no permit is needed for their activity. Check with the park staff for more information on closures, sensitive resources, and other safety tips.
Are filmers still required to pay fees to film in parks?
As of January 22, 2021, the National Park Service is no longer collecting application or location fees, or cost recovery for filming.

Under the interim guidance, the NPS will no longer distinguish among different types of filming (commercial, non-commercial, news gathering). Low-impact filming activities in areas open to the public may occur without any advance notice to the NPS or the need to obtain a permit. The guidance defines "low-impact" as outdoor filming activities in areas open to the public (excluding areas managed as wilderness), consisting of groups of five persons or fewer, and involving equipment that will be carried at all times—except for small tripods used to hold cameras.

Filming without a permit is prohibited in areas managed as wilderness or in areas that are closed to the public. All activities in park areas—including filming—must comply with all visitor use regulations, including those prohibiting resource damage, protecting wildlife or mitigating audio disturbances, as well as any restrictions on visitor use in the park's compendium, such as restrictions on the use of unmanned aircraft systems (drones).

Non-low-impact filming activities require at least 10 days advance notice to the NPS by contacting the park directly. During this time, the superintendent will determine whether the filming activities will require a permit. Based upon the information provided, a permit may be required if necessary to:
maintain public health and safety;

protect environmental or scenic values;
protect natural or cultural resources;

allow for equitable allocation and use of facilities; or

avoid conflict among visitor use activities.
Filming activities must not violate applicable laws, such as the Endangered Species Act, the Archeological Resources Protection Act, or the Wilderness Act. All filming must comply with laws protecting the NPS's intellectual property, such as laws and regulations governing the use of the NPS Arrowhead and images of NPS employees.

Still Photography
When is a permit needed?
Price v. Barr had no impact on how the National Park Service regulates still photography, so there are no changes in how the National Park Service regulates that activity. Still photographers require a permit only when:
the activity takes place at location(s) where or when members of the public are generally not allowed; or
the activity uses model(s), sets(s), or prop(s) that are not a part of the location's natural or cultural resources or administrative facilities; or
a park would incur additional administrative costs to monitor the activity.
Last updated: April 28, 2021