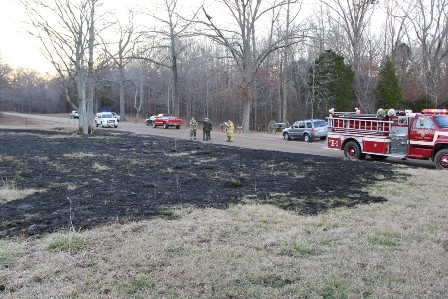 News Release Date:
February 13, 2015
Contact: Stacy Allen, 731-689-5275
Shiloh National Military Park Superintendent Dale Wilkerson reports that Shiloh battlefield experienced a wildfire on the late afternoon of February 12, in historic Duncan Field. The wildfire, which was driven by gusting winds, burned across roughly eight acres of the western section of the field and into adjacent forest, ignited along the south edge of the battlefield auto tour route on the historic Corinth-Pittsburg Landing Road.
Firefighters from the park, assisted by the Hardin County Fire Department, quickly contained the fire within an hour of its being reported by a park visitor. The fire, contained to grass and forest, did not damage any of the battlefield monuments, markers, or cannon located in the historic Duncan Field area.
This suspicious wildfire incident is under investigation by the National Park Service. Anyone possessing information they believe may assist the wildfire investigation should contact Chief Park Ranger Stacy Allen at 731-689-5275 or e-mail us.