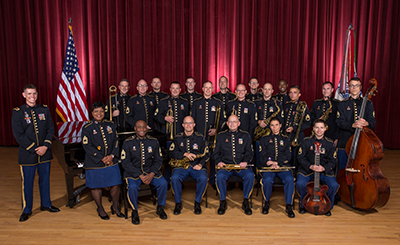 News Release Date:
January 23, 2017 "The Jazz Ambassadors" is the official jazz band of the United States Army. Formed in 1969 and based in Washington D.C., the 19-member ensemble has received great acclaim at home and abroad performing America's greatest original art form – big band jazz.
The band will play a free concert on Saturday, March 25, beginning at 7 p.m., at the Hardin County High School auditorium. Although the concert is free, tickets are required and will be available by request on a first-come/first-served basis in February.
One song of the evening will include several local high school students selected by Hardin County's band director, who will have practiced the selection a month in advance of the show.
"The U.S. Army Field Band tours nationally and internationally, completing a touring circuit of the entire nation every two and a half years," said Shiloh Superintendent Dale Wilkerson. "The band has never performed in this part of Tennessee, and they are very excited to have the opportunity to showcase their talent and the mission of the U.S. Army to the people of Hardin County. We are privileged to be able to host these world-class performers."
The jazz band has appeared in all 50 states, Canada, Mexico, Japan, India and throughout Europe. Whether at a world- renowned venue or playing in the grassroots of America, the "Jazz Ambassadors" impress audiences with their aptitude.
The ability to connect with their audience has attracted the attention of Gordon Goodwin, Bobby Shew, Ernie Watts and the Dave Brubeck All-Star Quintet, just a few of the jazz artists who have shared the stage with The Army Jazz Band.
Concerts by the Jazz Ambassadors are programmed to entertain all types of audiences. Many of the ensemble's members arrange and compose music highlighting the group's creative talent and gifted soloists. Their diverse repertoire includes big band swing, Latin music, contemporary jazz, bebop, standards, popular tunes, Dixieland and patriotic selections.
Wherever they travel, the Jazz Ambassadors "proudly carry the message of patriotism and goodwill to audiences worldwide."
Many members of the Jazz Ambassadors have extensive civilian performance experience. Alumni have gone on to careers in university teaching, studio recording, and performance.
Sponsors for the concert are Shiloh National Military Park, Friends of Shiloh National Military Park, The Courier, Hardin County Convention and Visitors Bureau, Savannah Arts Commission, Hardin County High School and "The Pride."
For more information call 925-8181 or visit 
www.tourhardincounty.org
.