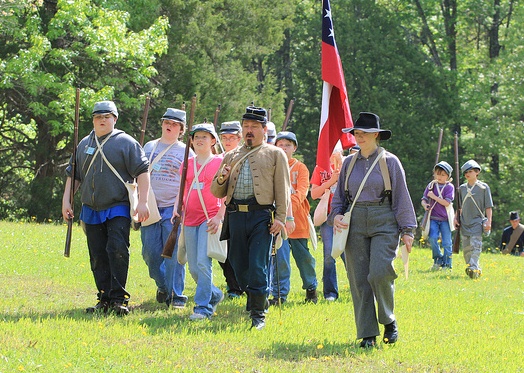 News Release Date:
July 6, 2012
Contact: Heather Smedley, 731-689-5696
Contact: Chris Mekow, 731-689-5696
Shiloh Battlefield will be hosting three days of fun and educational day camps for local children. The camps will be held at various locations on the battlefield from 9am-1pm on July 12th, 13th, and 14th, 2012. Each day will consist of different and exciting activities that relate to Shiloh NMP. The first day, children will discover and explore the 800 year old Native American mound complex located on the park. Day two will encourage children to become stewards of the land, by teaching them about wildlife, water quality, and the native trees of Shiloh. The camp will end on day three with "School of the Soldier", a Civil War camp; where children will experience what it was like to be a soldier during the Civil War.
Children ages 9-11 years old are invited to participate in one of the camps, or sign up for all three! All camps will be located out of doors, so children will need to come prepared to stay outside during the camps. Participants need to bring water, snacks, bug spray, sunscreen, and wear comfortable clothing for outside activities.
Participation is by registration only, as the program can only accommodate 30 children. Registered children will participate in the activities noted above from 9:00 AM until 1:00 PM each day. If you would like to register your child, please contact the visitor center at 731-689-5696.