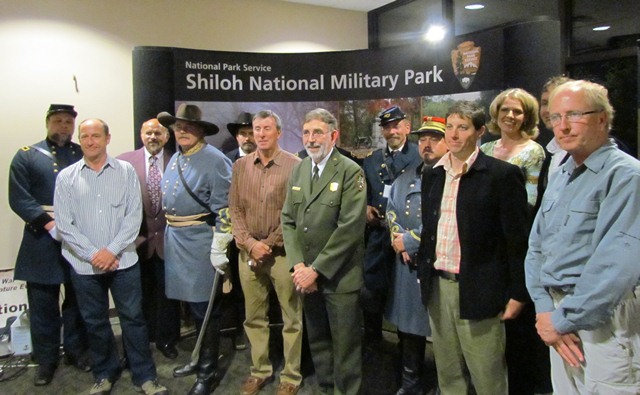 News Release Date:
May 14, 2013
Contact: Chris Mekow, 731-689-5696
Shiloh National Military Park's interpretive film, Shiloh - Fiery Trial, was honored with a Special Jury Award (First Place) at this year's Worldfest-Houston International Film Festival which took place in April. Worldfest, which began in 1961, is the oldest international film festival in the southern United States, and the only international film festival in North America dedicated to independent films. In addition, Worldfest was the first festival to present awards to several successful film makers such as Steven Spielberg, George Lucas, and Ang Lee.
The Special Jury Award is the highest award presented during the festival, honoring creative excellence in each major category. Fiery Trial and its director Chris Wheeler won in the category of "Historical Short." The award presented to the film is called a REMI, named for famed cowboy and western artist Frederick Remington.
Shiloh - Fiery Trial was filmed on location at Shiloh Battlefield in late March and early April of 2011 by Great Divide Pictures out of Colorado. The film debuted in April 2012 during the Sesquicentennial commemoration of the battle of Shiloh and was distributed nationally to PBS stations across the United States. To this date, Shiloh - Fiery Trial is the only National Park Service movie that has been televised nationally.
The 49-minute film, Shiloh - Fiery Trial, is shown daily in the park's visitor center auditorium on the hour beginning at 8:00 am with the last showing at 4:00 pm. The visitor center is free and open every day from 8:00 am - 5:00 pm except Christmas Day. The film is also available for purchase in DVD and Blu-Ray formats in the park bookstore which is also open daily from 8:00 am - 5:00 pm.