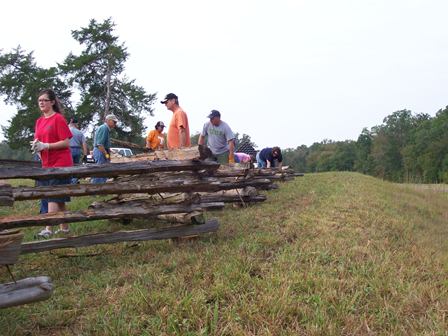 News Release Date:
August 23, 2013
Contact: Chris Mekow, 731-689-5696
SHILOH -- On Saturday, September 28, Shiloh National Military Park will once again participate in the annual National Public Lands Day (NPLD). This will be the 20th anniversary of NPLD which is the largest single day volunteer event for our nation's parks and other public lands. Shiloh is recruiting volunteers to work from 9:00 am - 1:00 pm, to help rangers paint cannon carriages on the historic Grant's Last Line.
All volunteers who participate in NPLD events to help conserve America's cultural and natural resources will receive a coupon that waives entrance fees at any participating public lands site. Shiloh volunteers will also receive a certificate of appreciation for their work and a "Shiloh Battlefield Service Award" patch.
This year's NPLD event focuses on our national commitment to supporting public lands, spending time outdoors, and being more active. Research shows that one step to preventing childhood obesity, diabetes, and depression is getting kids and families to spend more time outside. NPLD encourages volunteers to explore and enjoy America's natural wonders through outdoor recreation. After working hard, volunteers can take advantage of time in America's backyard on one of our county's best preserved and prestine Civil War battlefields.
This is the 20th anniversary of National Public Lands Day that began in 1994 with three federal agencies and 700 volunteers. Last year, 175,000 volunteers, seven federal agencies, and many state and local public lands participated in the annual day of caring for our shared lands.
Anyone interested in volunteering at Shiloh Battlefi eld is asked to call the Shiloh Visitor Center at 731-689-5696 to register in advance as space is limited. Due to the nature of the work project, all volunteers must be at least 15 years old. Volunteers should provide their own gloves and wear clothing appropriate for the weather and the work. Insect repellent and sunblock are also recommended. Rain or severe weather will cancel the event. For more information on this and other events at Shiloh visit the park's website at www.nps.gov/shil or on facebook at www.facebook.com/ShilohNMP. For more information on National Public Lands Day visit www.publiclandsday.org.