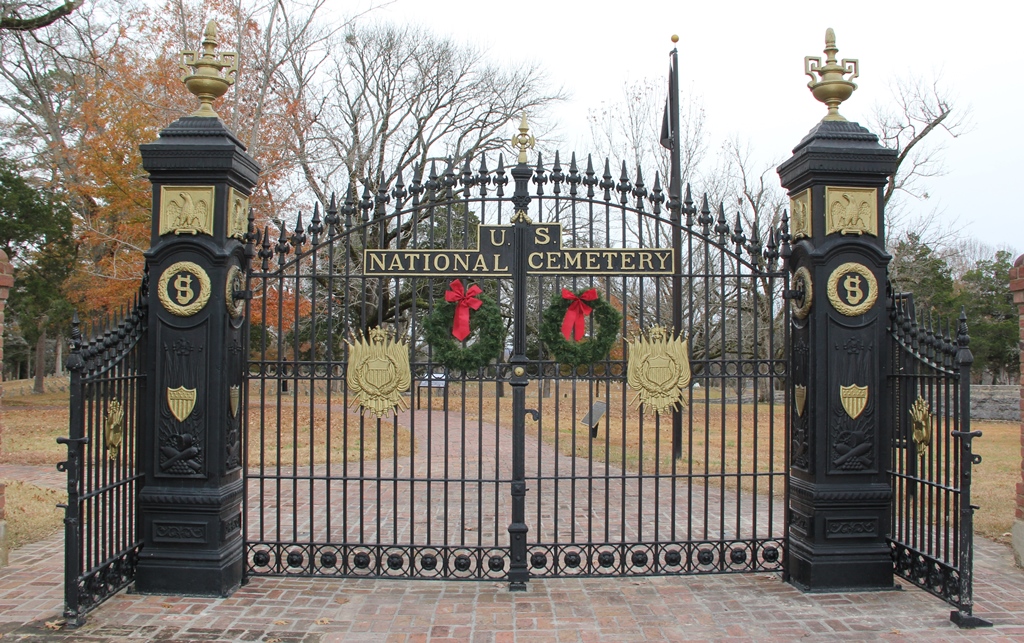 News Release Date:
December 6, 2017
SHILOH – On December 16th, Shiloh National Cemetery will participate in the national Wreaths Across America day. The ceremony will begin at 11:00 a.m. in the National Cemetery. The event is co-sponsored by Shiloh National Military Park and the Friends of Shiloh.

"This is the first year Shiloh National Cemetery has participated in the Wreaths Across America day," said Superintendent Dale Wilkerson. "The laying of wreaths on the graves of honored dead has been done since the time of Ancient Greece. The circular shape of the wreath represents eternity, for it has no beginning and no end, and the greenery represents everlasting life. Laying a wreath is an act of remembrance for someone's life and service, and it is our privilege to honor the soldiers buried here by participating in this event. We invite everyone to come and help place the wreaths."

Wreaths Across America, a non-profit 501-(c)(3) organization, was founded by Mr. Morrill Worcester of Harrington, Maine. When Mr. Worchester was 12 years old he visited Arlington National Cemetery, an experience he would never forget. Decades later, in 1992, his sent his company's surplus of 5,000 wreaths to be placed at Arlington, and he continued sending wreaths every year. In 2005, a photo of the stones at Arlington, adorned with wreaths and covered in snow, circulated around the internet. Suddenly, the project received national attention and thousands of requests poured in from all over the country from people wanting to help. Today the event has expanded to the placement of over 1.2 million wreaths in over 1,200 locations across the nation.

"Almost 500 wreaths have been donated for placement at Shiloh National Cemetery," said C.D. Rickman, President of the Friends of Shiloh National Military Park. "The outpouring of support has been tremendous, and we are grateful to the people of this community and the various civic organizations who have donated the wreaths for this event. Without the support of the community, events such as this cannot happen."

The event will begin at 11:00 a.m. with a short patriotic ceremony. Following the ceremony, everyone in attendance will be invited to come forward and assist with laying the wreaths on the graves. In case of rain, the ceremony will be held in the Visitor Center auditorium.

More information can be obtained by contacting the Shiloh Battlefield Visitor Center at 731-689-5696, or online at www.nps.gov/shil.