Shiloh and Corinth to Host Screening of New Veterans Day Documentary
Date:
September 6, 2012
Contact:
Shiloh Visitor Center, 731-689-5696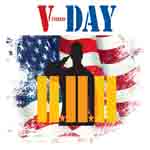 On Thursday, September 27, Shiloh National Military Park will host a screening of the new documentary about America's veterans entitled "V-Day 11.11.11". This film was produced by award winning director John C. P. Goheen and features many up and coming directors as they highlight the unique stories of the men and women who protect and defend our country.
The screening will take place at the Shiloh Battlefield visitor center beginning with a reception at 6:30 pm, followed by the screening at 7:00 pm. The not-for-profit film is 100 minutes long and will include an intermission.
Seating is still available, but anyone wishing to attend should contact the Shiloh visitor center at 731-689-5696 to reserve their seats. For more information on "V-Day 11.11.11" and to view a trailer of the film, visit the Shiloh website at www.nps.gov/shil.