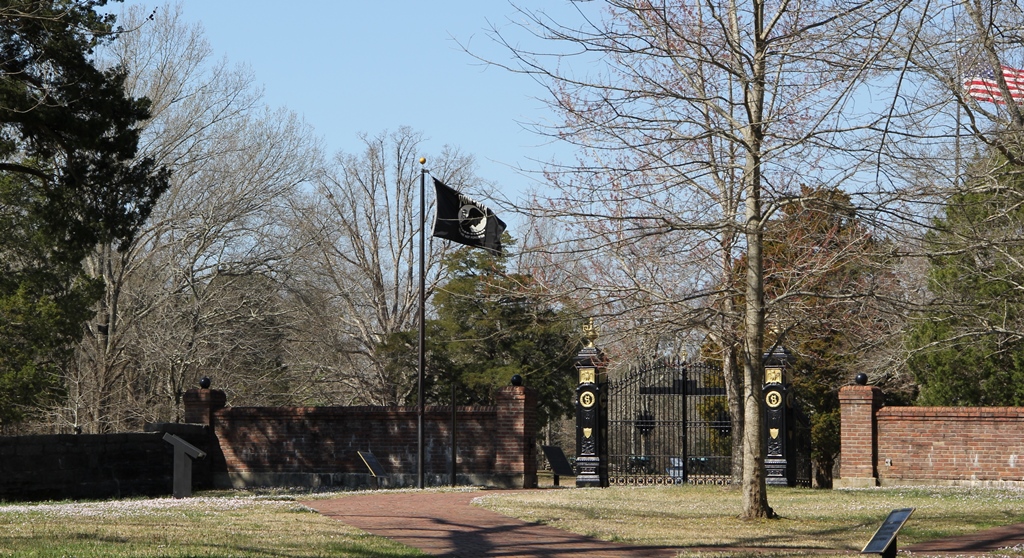 News Release Date:
November 7, 2017
SHILOH, Tennessee
– Shiloh National Military Park is replacing the brick wall surrounding the western boundary of the Shiloh National Cemetery.
In 1866, the War Department established this cemetery in order to bury the dead from the battle of Shiloh, and from other operations along the Tennessee River. Shiloh National Cemetery holds 3,584 Civil War dead, with 2,359 of them unknown. The cemetery also holds soldiers from World War I and II, Korea, Vietnam, and the Persian Gulf War. Total interments in the cemetery stands as 3,892. Although the cemetery was officially closed in 1984, it still averages two or three burials a year for widows of soldiers already interred.
In 1867, workers built a stone wall around the cemetery. A brick wall and ornamental iron gates were added at the entrance in 1911. While the stone wall and gates remain, the original brick wall eventually deteriorated, and in the early 1940's was replaced with the current wall. "The brick wall is hollow with no structural support, and was constructed using soft clay brick laid in the traditional common bond pattern using Portland cement as the bonding agent," said Superintendent Dale Wilkerson. "Unfortunately, the mortar is harder than the brick, and there are no expansion joints or drainage weep holes in the wall. Consequently, several major cracks have developed both horizontally and vertically, causing the wall to shift off of its foundation by more than 2 inches. Approximately 90% of the wall shows signs of deterioration, with broken or missing bricks."
In Fiscal Year 2017 the park received funding to replace the wall. The park convened an interdisciplinary team of engineers, historians, historic masons, and cultural resource specialists to examine the wall, to consider long-term solutions, and to determine the best course of treatment for the structure. After developing four treatment options, the
 team ultimately decided that replacement of the wall was the best choice for long-term preservation. The new wall will be constructed to match the existing wall, and the original iron gates will be preserved and reused.
Demolition of the wall is expected to begin on November 15, and the work should be completed by Christmas. The work is being performed by Hunt Contracting-Design, LLC of Savannah, TN.
For more information on Shiloh National Military Park or Shiloh National Cemetery, visit us on the web at www.nps.gov/shil, or call the visitor center at (731) 689-5696. You can also find us on Facebook at www.facebook.com/ShilohNMP, on Twitter at twitter.com/ShilohNPS, and on Instagram @ShilohNPS.