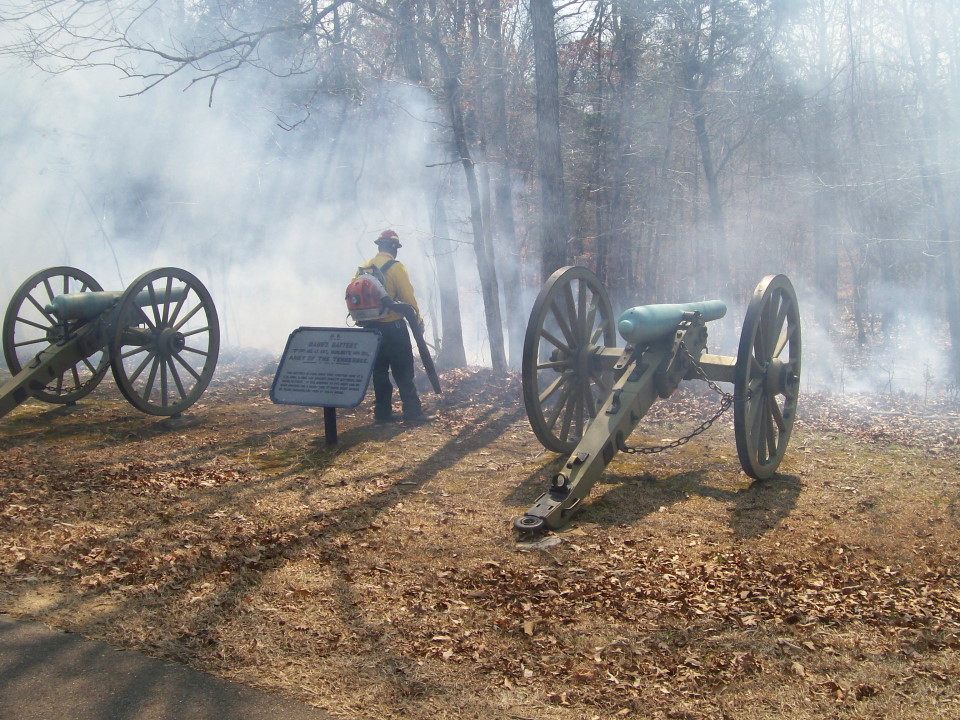 News Release Date:
February 9, 2015
SHILOH, Tennessee - Shiloh National Military Park will conduct a prescribed burn Tuesday, February 10, and Wednesday, February 11. Park staff, with assistance from the Natchez Trace Parkway Fire Management Team, will burn two units: East Branch Shiloh Creek and Middle Branch Shiloh Creek Units.The Middle Branch Unit is a144-acre unit located on the southwest of the battlefield bordered by Corinth Road to the west, Reconnoitering Road to the south and east, and Peabody Road to the north. The East Branch Unit is a 232-acre unit bordered by Hamburg-Purdy Road to the north, Eastern Corinth Road to the east, Corinth Road to the west, and, sharing a boundary with the Middle Branch Unit, Peabody Road to the south.
Prescribed fire is a beneficial and cost-effective tool for managing several forest types, as well as grasslands. Historically, fire has played a natural role in maintaining a healthy ecosystem. A controlled burn reduces the build-up of dead woody debris and non-native vegetation, decreases risk of catastrophic wildfire, and provides habitat and forage for animals.
Warning signs will be placed along the roads as a safety precaution to motorists and pedestrians. Motorists are expected to travel at a safe speed with their headlights on when smoke is present during the burn. They should also be alert for park rangers, wildland firefighters, and equipment along these roadways.
For more information about Shiloh Battlefield's control burn program, please contact Marcus Johnson at (731) 689-5696.