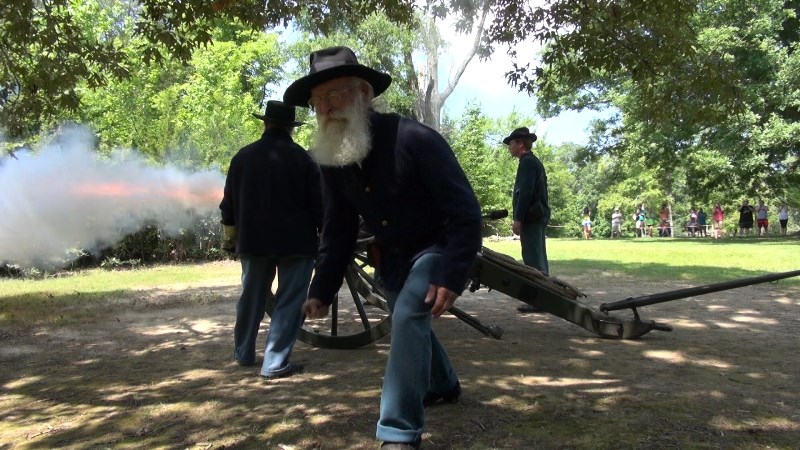 News Release Date:
September 13, 2017
Contact: Ashley Berry, 662-287-9273
CORINTH, Mississipp
i – On Saturday, September 30, the sound of musketry, the roar of cannon, and the pounding of hoof beats will be heard at one of Corinth's most important Civil War sites.
In commemoration of the 155th anniversary of the Battle of Corinth, the National Park Service will host a large living history demonstration on the grounds of the Corinth Civil War Interpretive Center at the site of historic Battery Robinett. The demonstrations will include artillery, cavalry, infantry, music, and Douglas the Camel of the 43rd Mississsippi Infantry. The following is the schedule of events:
• 10:00 am – Horse mounted cavalry reenactors of Company D, 7th Tennessee Cavalry, will demonstrate the tactics of Civil War cavalry and fire several types of weapons used by this branch of the military during the war. The company will also perform a saber drill, demonstrating the cavalryman's ability to use the weapon both offensively and defensively.
• 11:00 am – Several artillery reenacting units working together as a battery, will demonstrate the drill of Civil War cannoneers. The demonstration will include loading, aiming, and firing the big guns, so visitors will be able to see and hear how multiple cannon worked and fired together as a unit.
• 12:00 pm – Infantry reenactors will perform tactical demonstrations, which will include weapons firings as a unit. Information on the uniforms and equipment of the common infantry soldier will also be presented.
• 1:00 pm – The Texas Camel Corps will present a program about the use of camels in the U.S. military and the story of Old Douglas, a camel who carried the band instruments for the 43rd Mississippi Infantry at Corinth, and was later killed at Vicksburg. Camel programs will also be offered on Sunday.
• 2:00 pm – A thirty-minute music program featuring period songs will be presented by the Civil War string band "Lost Cause."
• 2:30 pm – A combined arms demonstration will be presented featuring all three branches: infantry, cavalry, and artillery, working together in the field. A narration will describe how the three branches would participate in a pitched battle as the combined branches conduct weapons firings.
The entire event is free and open to the public. Each program will last approximately 30 minutes. Visitors are encouraged to bring water and insect spray, and to wear appropriate clothing and footwear for the weather conditions. Rain or severe weather will cancel the demonstrations.
For more information on this and other park events please contact the Civil War Interpretive Center at 662.287.9273, go to the park website at www.nps.gov/shil, or find us on Facebook at www.facebook.com/ShilohNMP.