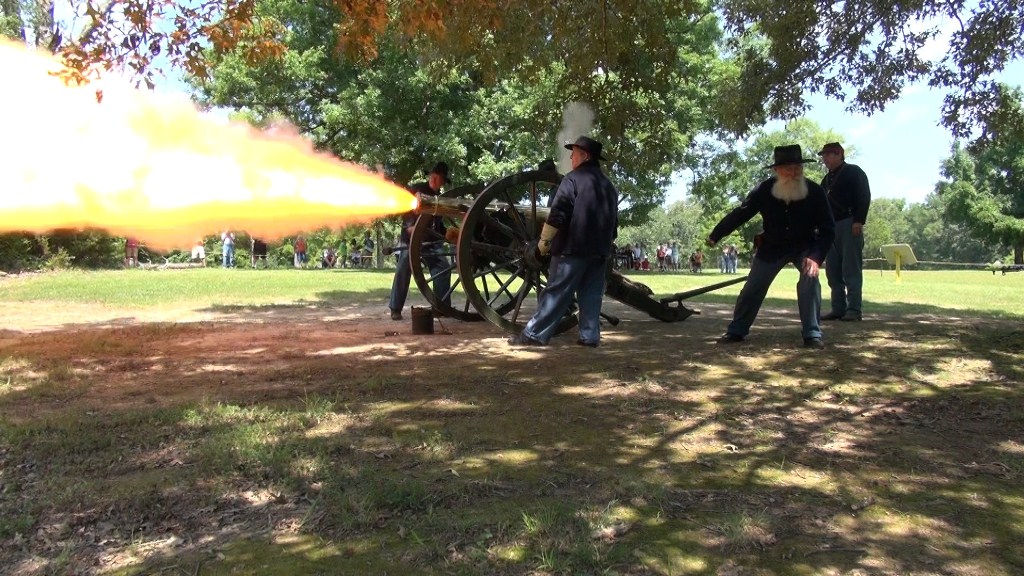 News Release Date:
May 22, 2017
From Saturday, May 27, through Monday, May 29, Shiloh National Military Park will be offering a variety of special events to the public, including a free concert in the park, artillery demonstrations, ranger programs, and a Junior Ranger booth. The park will also host the annual Memorial Day service in the Shiloh National Cemetery.

"Memorial Day is a day for remembering the people who have died while serving in our country's armed forces," said Superintendent Dale Wilkerson. "This day was originally known as Decoration Day, and began after the Civil War to commemorate the soldiers who died in the war."

On Saturday, May 27, Shiloh National Military Park will present its first Concert-in-the-Park of 2017. The free twilight concert on the lawn in front of the park Visitor Center will feature Civil War era music. The public is invited to bring lawn chairs, blankets, and picnic baskets to the concert.

From 5:30pm – 6:30pm Steve and Lisa Ball will perform. Steve Ball hails from Columbus, Ohio, and has devoted the last twenty years of study to Civil War music. He has performed all over the Midwest playing at living history events, symposiums, Civil War roundtables, re-enactments, and other historical venues. Ball has released two CDs and is currently working on a new CD devoted to the music of Stephen Foster. Ball also collects vintage instruments, mostly guitars, the earliest being an 1845 Martin acoustic guitar. His show includes songs from the 1850s that would be important regarding the climate of the country before the war began in 1861. For this performance, Ball will be joined by his wife Lisa, who plays upright bass and sings harmonies.

From 6:45pm – 7:45 pm, The Eighth Regiment Brass Band will perform. "The 8th" is celebrating their 30th year as a touring and recording Civil War brass band. Formed in 1986, in Rome, Georgia, "The 8th" represents a modern counterpart to the band of the Eighth Regiment, Georgia Volunteer Infantry, who served in the Confederate Army from First Manassas to Appomattox. "The 8th" also portrays the band of the 8th New York National Guard in Union blue, to better present, as they say, "a living museum of 19th century emotions" in music. The Eighth Regiment Brass Band has performed live on Good Morning America and National Public Radio, as well as several Great American Brass Band Festivals, many National Parks, and the final interment of HL Hunley crew in 2004. They have also provided soundtrack music for made-for-TV movies and documentaries. 
CDs from Steve Ball and the 8th Regiment Brass Band will be available for purchase in the Shiloh bookstore both before and during the concert.

The park will also have a Junior Ranger booth set up for the kids on May 27 starting at noon. Children of all ages are invited to work on three different Junior Ranger booklets in order to earn three different Junior Ranger badges. One booklet focuses on the battle of Shiloh, one commemorates the 50th anniversary of the National Historic Preservation Act of 1966, and one focuses on the Underground Railroad.

On May 27 & 28 the park will offer cannon firing demonstrations across the street from the Visitor Center. The Shiloh cannon crew, wearing period uniforms, will demonstrate the duties of Civil War cannoneers, the implements and projectiles they used, and the proper loading and firing procedures of the 6-pounder field piece. The artillery firing demonstrations will take place at 10:30 a.m., 12:30 p.m., 2:00 p.m., and 4:00 p.m. on Saturday, and 11:00 a.m., 1:00 p.m., and 2:30 p.m. on Sunday.

On Monday, May 29, at 11:00am, Shiloh National Military Park will host its annual Memorial Day observance ceremony in the Shiloh National Cemetery. This time honored service, one of the oldest in West Tennessee, will include music, reflective readings, patriotic salutes, and the laying of a wreath on the grave of an unknown soldier.

The key note speaker will be Air Force Lt. General Joseph E. Hurd (Ret.). General Hurd is a Memphis State University graduate who entered the Air Force in 1965, and completed pilot training at Webb Air Force Base in 1966. A command pilot with more than 3,700 hours in F-4s, F-15s, and F-16s, Gen. Hurd flew 169 combat missions in South Vietnam. He also served as a fighter weapons school instructor, operations officer, squadron commander, and Wing Commander at three bases in Japan and Korea. Among his many assignments, Lt. Gen. Hurd served nine years at the Pentagon, Tactical Air Command at Langley Air Force Base, and as Deputy Commander-in-Chief United Nations Command. Gen. Hurd is now owner and publisher of the Savannah Courier newspaper in Savannah, Tennessee.

Prior to the Memorial Day Service, the Savannah Dixieland Band will perform at 10:30am. The public is invited to arrive early and enjoy the patriotic music presented by local musicians.  

For more information on Shiloh National Military Park's events, visit us on the web at www.nps.gov/shil, or call the visitor center at (731) 689-5696. You can also find us on Facebook at www.facebook.com/ShilohNMP, on Twitter at twitter.com/ShilohNPS, and on Instagram @ShilohNPS.