Date:
September 27, 2016
Contact:
Ashley Berry, 662-287-9273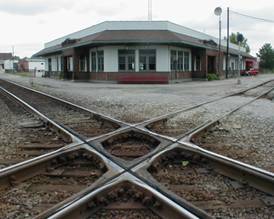 Shiloh National Military Park will commemorate the 154th anniversary of the battle of Corinth by offering interpretive programs over a three day period from Monday, October 3, through Wednesday, October 5."We invite everyone to visit the Corinth Battlefield as we remember the events that took place in Corinth 154 years ago," said Superintendent Dale Wilkerson."The programs will provide visitors with a unique opportunity to engage park resources that are normally challenging to access on a daily basis."Visitors will also have the opportunity to discover unique stories about the battle such as the story of an eagle named "Old Abe," the mascot of the 8th Wisconsin Infantry, who became one of the casualties of the battle. Rangers will offer battlefield hikes, multimedia presentations, and car caravan tours over the three days.
In addition, a Junior Ranger table will be set up especially for the younger visitors.The Junior Ranger table will be available Sunday, October 2, through Wednesday, October 5.Children are invited to visit the Center and participate in the Junior Ranger program which includes the special Centennial Junior Ranger Activity Book.
A complete schedule of hikes and car caravan tours is posted
here
 or find us on Facebook.
Visitors are invited to preregister for the programs by calling the Corinth Civil War Interpretive Center at 662-287-9273.Participates should meet the guides at the appointed sites and times, and are encouraged to wear appropriate clothing and footwear for the weather and terrain.Visitors attending more than one hike are encouraged to have food and water available.