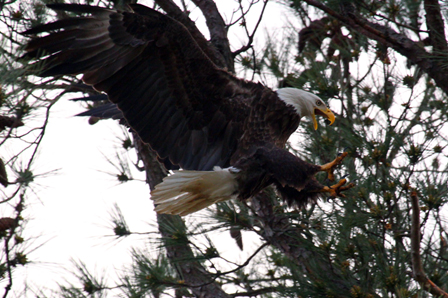 News Release Date:
April 25, 2011
Contact: Marcus Johnson, 731-689-5696
"The public will have an opportunity to learn about Shiloh Battlefield's two most popular wildlife residents," Superintendent Woody Harrell announced today. "We are fortunate to have this nesting pair of bald eagles return to the park for a fourth consecutive year to raise their young," Harrell said. Named after General Ulysses Grant and his wife by park staff, Hiram and Julia have made Shiloh Battlefield their home since the fall of 2007. "Since this year's eaglets hatched on March 17th and 18th, our visitors have enjoyed watching the parent birds bring a steady diet of fish and turtles back to the nest, supplemented by an occasional snake or coot. We hope their rapid growth will continue until the young are ready to take flight around Memorial Day, "Harrell added.
The bald eagle interpretive programs will be scheduled on consecutive Thursdays, May 5th, May 12th, and May 19th at the Shiloh Battlefield Visitor Center. "The program will begin with a presentation highlighting the annual life cycle, behavior, and rich history of these majestic birds," Johnson said. "We will then proceed outdoors to Cloud Field in order to observe the nesting pair as well as this year's eaglets, which may be an opportunity to observe them as they feed," Johnson said. These programs will begin at 6:00 p.m. each day, and last approximately one and one-half hours.
Those wishing to participate in the eagle program should dress appropriately for weather conditions and wear footwear suitable for a short walk. Severe weather conditions will cancel this activity. Participants are encouraged to bring binoculars and cameras and arrive at visitor center at least 5-10 minutes prior to the start of the program. This activity is free to the public. To sign up to attend one of the eagle programs, please contact the Shiloh Battlefield Visitor Center, open daily from 8:00 a.m. to 5 p.m., at (731) 689-5696, or e-mail Marcus Johnson at e-mail us.