Date:
January 24, 2017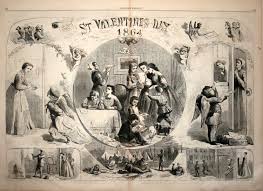 "Shiloh National Military Park is inviting children to participate in a Civil War Valentine's Day program on February 11, at 2:00 pm", Superintendent Dale Wilkerson announced today. "We are excited to present this fun filled, yet educational opportunity to area children. This unique hour long program will introduce young people to how Valentine's Day was celebrated 155 years ago in our nation" stated Superintendent Wilkerson.  
Children will gain insight into the history of Valentine's Day, Valentine keepsakes, and how soldiers celebrated the holiday during the Civil War. In the early 1800s most Valentine cards and keepsakes were handmade, and had become the most popular way to express feelings of love. During the Civil War, they combined sentiments of patriotism, love, duty, and loss. The keepsakes appealed to the soldiers who were far away from their loved ones, and were cherished when received in camp.  
Each child will construct their very own unique Civil War valentine that they will be able to share with someone special.  
If your child is interested in attending the annual Civil War Valentine program, please register by calling 731-689-5696.