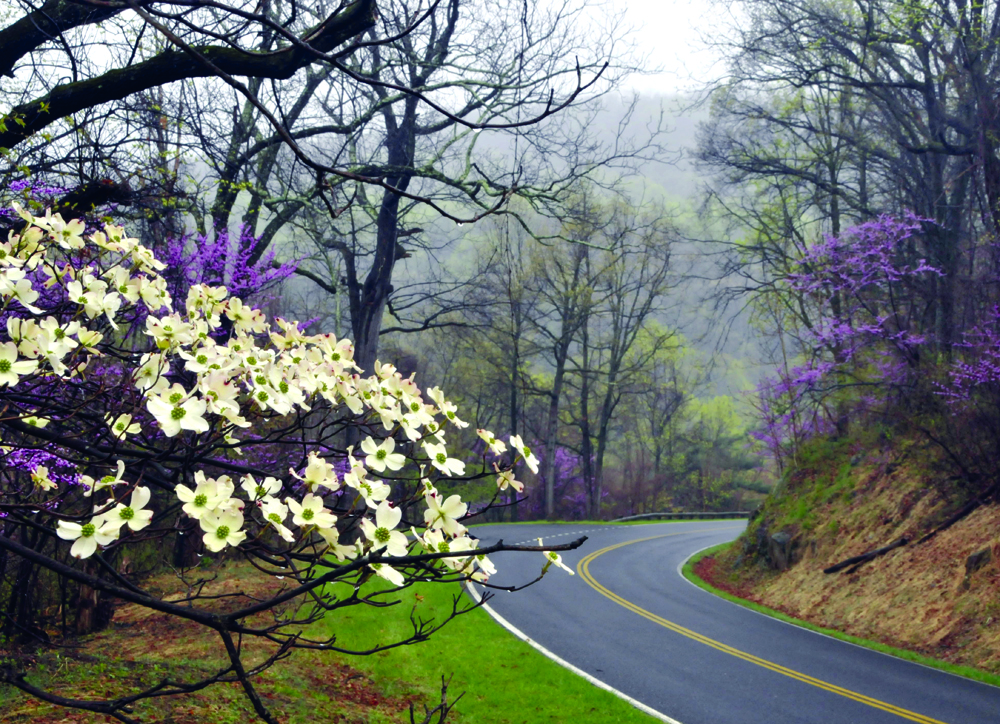 Event details are evolving. Please bookmark this page and check back often for the latest news!
Update 3/22/2017
We are looking for volunteers to help with this event!! Interested? Apply here: https://www.volunteer.gov/results.cfm?ID=16645

Update 3/13/2017
We are very excited about the response to our "Ride the Drive" event. Vehicle registration filled up in a matter of hours.

Please give us some time to locate additional parking. While we do that, we are adding an option in Eventbrite for people who do not require parking. We will reopen registration for a "No Parking Needed Option" Wednesday, March 15 at 7:00 a.m. If you don't require parking, please go to https://ridethedrive.eventbrite.com/ and register.

A great experience for everyone this first time out will help us plan for an even better event in the future!

For those of you new to the event, Shenandoah National Park plans to open the north district of Skyline Drive (mile 0 at Front Royal to mile 31.5 at Thornton Gap, Rt. 211) to non-motorized vehicles only on April 23, 2017, 7:00 a.m. to 5:00 p.m. Registration for the event opened Friday, March 10. The rest of the park will be open as usual, and it is a fee-free day for all.

"Ride the Drive" Event at Shenandoah!
Shenandoah National Park invites bicyclists (and other users of non-motorized vehicles) to enjoy Skyline Drive's north district on April 23, 2017 from 7:00 a.m. to 5:00 p.m. During those hours the portion of the Drive from Front Royal (mile 0) to Thornton Gap (mile 31.5) will be open to non-motorized vehicles only.

The event is a celebration of National Park Week and National Park RX Day. National Park Week is America's largest celebration of national heritage. It's about making great connections, exploring amazing places, discovering open spaces, enjoying affordable vacations, and enhancing America's best idea—the national parks!

National ParkRx Day is celebrated across the United States to promote the growing movement of prescribing parks and nature to patients to improve human health. It encourages everyone to envision their visits to parks and public lands as very important parts of their physical and mental health.
FAQs
Is there a fee?
No. April 23 is a Fee-free day for all national parks. However, registration is required and will be open March 10.
Where can I park?
Registration does NOT guarantee parking. All parking is first-come, first-served. To enter at Front Royal (recommended), you can park at Skyline High School which is located just across Route 340 from the Park's entrance. Parking at the Thornton Gap Entrance is limited to 100 cars. Additional parking is at Hearthstone School near Sperryville, Va. about five miles from the entrance.

Parking is limited. Carpooling and drop-offs are encouraged!

What if I don't need parking?
Drop-offs will be at the parking areas listed above. There will be no vehicle access to park entrances for drop-offs.
Will there be shuttles?
No.
What are the regulations for the event?
All normal Park regulations apply including the 35 mph speed limit.

Please remember that bikes and other non-motorized vechicles are NOT permitted on adminstrative roads and trails in Shenandoah.
What services will be available?
Skyline High School (151 Skyline Vista Drive, Front Royal, VA) - restrooms
Dickey Ridge Visitor Center (mile 4.6) - restrooms, water, emergency services, bike repair
Hogwallow Flats Overlook (mile 14.2) - restrooms
Elkwallow Wayside (mile 24) - restrooms, water, food, emergency servies, bike repair
Elkwallow Picnic Grounds (mile 24) - restrooms
Panorama Comfort Station (mile 31.4) - restrooms and water

The Elkwallow Wayside serves food and sells some groceries.

What are the hours of the event?
Participants may expect the north district of Skyline Drive to be closed to motorists from 7:00 a.m. to 5:00 p.m. The Drive will be closed to the public at 10:00 p.m. April 22 to prepare for the event. It will reopen to the public at 7:00 p.m. on April 23. However, there will be vehicular traffic in the closure area after 5:00 p.m. so any remaining bicyclists should use caution.

Who can participate?
Bicyclists, walkers, and others using non-motorized vehicles may participate. Motorized wheelchairs are welcome. Horses are not permitted on Skyline Drive, but as always are welcome to ride the 180+ miles of horse trails in the Park.

What if I have special needs?
Please call 540-999-3500, ext. 3397 if you or your group has special needs (ie. wheelchair access, etc.)
What if the weather is bad? Is there a "rain date"?
No, the event will be held rain or shine unless there is severe weather that prompts the park to cancel for safety reasons. In that event, there will no "rain date."

Where can I stay and what else is there to do in the area?
Contact the Chambers of Commerce for great info and stay in the area for great food and fun!
Front Royal - Warren County
Luray - Page County
Rappahannock County

How difficult is the ride?
There is a significant elevation gain. The total cumulative uphill grade riding north to south (Front Royal to Panorama) is 4,688 feet. The total cumulative uphill grade riding south to north (Panorama to Front Royal) is 3,004 feet. The highest point along Skyline Drive in the north district is 3,393.5 feet. The hardest stretches are the first several miles on either end.

For comparison, if you have hiked the Old Rag Loop, it is only 2,380 feet, so Front Royal to Panorama is almost twice that and on a bike. Please consider your fitness level before embarking on this ride!