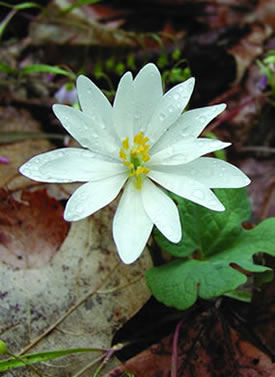 Download the 2015 Wildflower Weekend Program Schedule.

Wildflower Weekend activities are free with your park admission. No pre-registration is necessary.
Take a day or two to appreciate the diversity of wildflowers growing here in the Blue Ridge. More than 1,300 species of plants thrive in Shenandoah National Park, a mountain island surrounded by farmland, towns, and expanding developed areas. The park is a haven for native woodland wildflowers. For more information about Shenadoah's wildflowers click here.
Take time to observe. See how flowers rely on butterflies, bees, birds and other animals to pollinate them and spread their seeds. Watch the daily battles taking place over a plant's resources.
Contemplate a wildflower and you might discover your own connections to the natural world.
" If you've never been thrilled to the very edges of your soul by a flower in spring bloom, maybe your soul has never been in bloom."
~ Audra Foveo
Help to ensure that wildflowers will be around for generations by leaving them unharmed. A flower that is picked misses the chance to spread thousands of seeds. A plant that is dug up is gone forever, and the loss affects all things connected to it. Love 'em & Leave 'em!