Waterfalls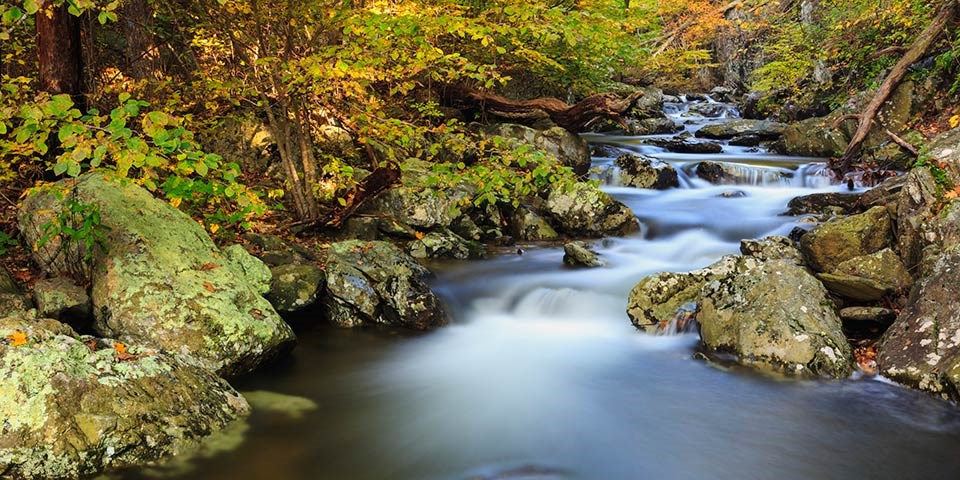 Who doesn't love a waterfall? Besides small cascades along streams, there are large and lovely waterfalls in each section of Shenandoah National Park. All are accessible from a parking place along Skyline Drive. But note that all involve a hike downhill—and, of course, the harder hike back up! All waterfalls are along blue-blazed, forested trails. Learn more about hiking in Shenandoah.
Check out the waterfalls and the climb back up. Pick one you can't resist! Each has its own beauty and personality. Click on the links below for downloadable maps. Note that in some cases more than one waterfall is on a downloadable map so you will see duplicates.
Overall Run Falls
Mathews Arm Area Map (1.1mb pdf)
From mile 21.1 in the North District of the park, is the tallest waterfall—93 feet. It's an impressive drop of water! Beyond it, you'll also get a view of the Shenandoah Valley and Massanutten Mountain to the west. You'll have rock ledges to sit on as you enjoy the scene. The hike to the falls and back is 5.1 miles roundtrip, with a climb of 1,291 feet.
Rose River Falls
Big Meadows Area Map (1.2mb pdf)
From mile 49.4 along Skyline Drive, is a dazzling cascade of 67 feet. After lots of rain, there are as many as four cascades! For most of this hike, you'll be on a beautiful trail in one of the park's federally designated wilderness areas. The hike is 4 miles roundtrip, with a climb of 910 feet.
South River Falls
South River Area Map (550kb pdf)
Located at mile 62.8 in the Central District of the park, is truly spectacular. It's a waterfall of 83 feet, the third tallest in the park. A rock ledge with a stone guard wall offers you a good resting place as you enjoy the sight—and the thundering sound—of falling water. The hike is 2.6 miles roundtrip, with a climb of 850 feet.
Jones Run Falls
Loft Mountain Area Map (1.2mb pdf)
Located at mile 84.1 in the South District of the park. Do you want a waterfall that will soothe your spirit and bring you peace? Try this one. The hike is 3.2 miles roundtrip, with a climb of 1,045 feet. But the climb is gradual, so you may find it easier. The waterfall is a jewel—a cascade of 42 feet, surrounded by rocks, moss, and bushes. While sitting on flat rocks right in front of it, you become part of the scene!
Want More Waterfalls...
Other waterfalls in the park include Whiteoak Canyon Falls, accessed from mile 42.6 or the park boundary, and Cedar Run Falls, mile 45.6. There are five additional falls beyond the first one in Whiteoak Canyon, and if you like long hikes, these two can be hiked as a very strenuous 7.3 mile circuit. Download the Whiteoak Canyon Area Map (1.1mb pdf) for Whiteoak and Cedar Run Falls.

Dark Hollow Falls at mile 50.7 and Lewis Falls, mile 51.4, are both in the Big Meadows area, and are popular hikes. For maps to these falls download the Big Meadows Area Map (1.2mb pdf).

If you are in the South District you may want to check out Doyles River Falls, mile 81.1. Check out the Loft Mountain Area Map (1.2mb pdf) for directions to Doyles River Falls. All of the falls are described, with a map, in the inexpensive guide Hikes to Waterfalls in Shenandoah National Park. Most of the waterfalls are less impressive in a dry season, so it may be wise to check with a ranger about water flow before your hike.
Last updated: November 16, 2020