Picnic Grounds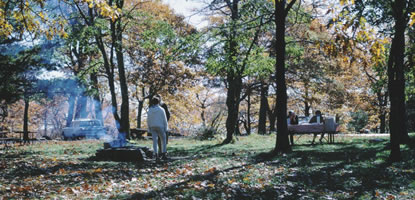 Click here for Opening/Closing Dates
Picnic areas in Shenandoah are large and scenic, and offer a pleasant place for relaxing. There are picnic tables with grills nearby; accessible sites are available. Restrooms (open except in cold months) are accessible with assistance.
Dickey Ridge (mile 4.6)
Elkwallow (mile 24.1)
Pinnacles (mile 36.7)
Big Meadows (mile 51.2)
Lewis Mountain (mile 57.5)
South River (mile 62.8)

Dundo (mile 83.7)
All of the areas can be found on the park map.
NEVER feed wildlife. Click here for tips on safely viewing wildlife in Shenandoah National Park.
Last updated: August 18, 2017