Horseback Trail Riding Introduction
Guided Trail Rides
Spring through fall, you may arrange for a guided trail ride leaving from Skyland. View the schedules at www.goshenandoah.com/activities-events/horseback-riding (official park concessioner).

Bringing Your Own Horse
Shenandoah National Park offers over 180 miles of trails open to horse use. Some of these trails are relatively smooth, wide, gravel paths, while others are steep, narrow, rocky mountain trails that will challenge the experienced horse and rider.
Whether you are new to this area, or are looking for a new place to ride, this website plus a good map will get you started on your Shenandoah adventure.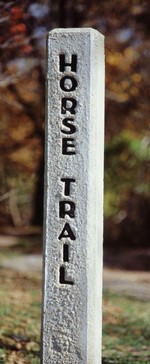 Please Leave No Trace during your visit to Shenandoah National Park. Here are the seven principles of Leave No Trace and a few examples of how some might apply to your trail ride:
Plan Ahead and Prepare
Download and print the park's Horse Use Regulations to bring along on your ride. Be sure to understand them before you leave home.
Purchase a good topographic map prior to your trip and familiarize yourself with any potential routes you will take while riding. The Potomac Appalachian Trail Club publishes excellent maps which indicates horse trails. You can purchase them from SNPA or PATC.
Plan your route. You may wish to use the Trail Ride Route Planning Guide.
If you plan to bring a horse trailer know where you will be parking.
Trails may be muddy after a rain or during the winter. If hoof prints are visible, please restrict your riding to graveled trails such as those indicated for winter use.
Be prepared to encounter other horses, hikers, backpackers, vehicles, and wildlife (including bear, deer, bobcats, and snakes) while riding in the park.
Make sure both you and your horse are in excellent physical condition before attempting long, rocky, rough, or strenuous rides. Allow for more time than you think you will need.
Think about backcountry safety before and during your ride.
Travel and Camp on Durable Surfaces
Yellow-blazed trails are the only trails at SNP designed to accommodate horse use. You can find a list of these trails in the Horse Use Regulations. Trail crews do their best to keep the trails clear spring through fall. However, if you encounter a tree completely blocking the trail, please return the way you came rather than leave the trail. During wet weather, as well as during the winter, stick to trails indicated for winter use or gated, gravel trails. Click for more information on winter riding.
Backcountry camping with horses in Shenandoah National Park is challenging so please read the Horse Camping page if you are considering backcountry camping with your horse.
Dispose of Waste Properly
Remove or scatter waste from parking areas, high lines and trailheads. Ideally you will remove rather than scatter if you have not been using certified weed-free feed prior to your trip.
Pack out all of your trash.
Leave What You Find
Grazing is not permitted.
For information on minimizing impacts, respecting wildlife, being considerate of other visitors, or to learn more about Leave No Trace click here.
Last updated: October 16, 2017