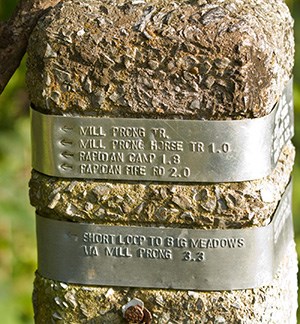 There are over 500 miles of hiking trails in Shenandoah ranging from easy to very strenuous. Scroll down to see a list of suggested hikes with links to maps. When you are out on the trails, look for the concrete trail markers with directional information at trailheads and intersections.

An average pace is:
1.5 miles per hour for easiest trails.
1.4 mph for moderate trails.
1.3 mph for moderately strenuous trails.
1.2 mph for strenuous and very strenuous trails.

This is hiking time and does NOT take into consideration individual fitness, exploration, rest, contemplation, etc. Make sure to read safety information on the hiking page.
Hiking Old Rag
Old Rag Mountain is one of the most popular hikes in the park. It is also the most challenging. Before embarking on this hike visit our Old Rag pages for important information about planning your hike. Old Rag is usually accessed from the Park's boundary off Route 600. There is a Shenandoah National Park-managed parking lot there for about 265 vehicles. Parking there is free. You are required to purchase an entrance permit. Landowners with property adjacent to the Park are charging a fee for parking on their property. Paying a private citizen to park does not affect the entrance fee. Be sure to check the Shenandoah lot for availability before paying to park.