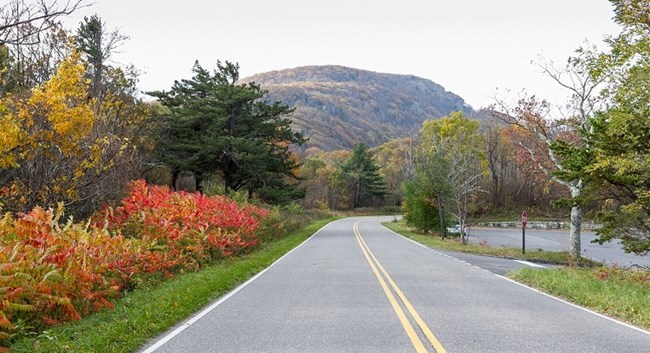 November 3, 2017

l(a

le
af
fa
ll

s)
one
l

iness
~ e. e. cummings, "l(a"
Don't be dismayed! This introductory use of e. e. cummings's work is not meant to be discouraging. (This writer just happens to love the poem.) The last leaf has not fallen yet in Shenandoah National Park.
But, as befits the name of this season, the leaves in this beautiful Blue Ridge Mountains national park are starting to fall. If you want to catch a glimpse of the autumn colors, now is the time to come.
A snow shower in the Park's higher elevations last Sunday squelched a little bit of the foliage's autumnal fire, but there is still plenty of color along Skyline Drive. And gazing out toward the Virginia Piedmont to the east and the Shenandoah Valley to the west, you can expect to see plenty of color – the brilliant gold of hickories, polka-dots of crimson and burnt-orange maples. From some overlooks (explore and find your own favorite!), the tops of many-hued trees standing tall in tiers in hollows are like some splendid and terraced Near East city, all jewel-toned domes and carnival-glass minarets.
Spend some time at Bacon Hollow Overlook, mile 68.9 on Skyline Drive, a spot that appears to drop off like the ends of the earth. Notice how mighty you feel – like Simba standing high atop Pride Rock in The Lion King – as you survey the half-moon-shaped bowl of Bacon Hollow and points east. Nubby treetops near and far spread out around and below you, in a view both intimate and grand, majestic and homespun. It's hard to look away, difficult to get back in your car and motor off.
But motor off you must. Because if you make your way north, to just south of Sandy Bottom Overlook (mile 67.5), there's a maple on the east side of the road so cherry red it looks fake, as if the leaves were cut from craft foam and glued, one by one, to its branches. And because, if you go south, you'll find a few oaks near Loft Mountain Wayside so saturated with color that they look to be made of Naugahyde. South River Picnic Grounds in late-afternoon sunlight is still awash with liquid reds, oranges, and golden yellows – wines, ciders, and bourbons.
You want to visit Shenandoah this weekend, you know you do. You don't want to miss this show!
To track the progress of fall color in Virginia and elsewhere, you might want to visit the more-scientific-than-Shenandoah's-weekly-fall-color-report Smoky Mountains Fall Foliage Prediction map at https://smokymountains.com/fall-foliage-map/ If you're curious as to what makes leaves change color in the fall, check out the U.S. National Arboretum's explanation at http://www.usna.usda.gov/…/FallFoliage/ScienceFallColor.html
A NOTE ABOUT FIRES – It rained last weekend – it even snowed! – in Shenandoah. But fall is a dry time of year in these mountains. Currently there are no fire restrictions in the Park, but please be very careful with fire – when building campfires and cooking fires, lighting camp stoves, even lighting cigarettes. As always, open fires are not permitted in Shenandoah's backcountry.
This is the last fall color report of this year. We hope you have enjoyed fall in Shenandoah National Park and these weekly reports. Have a wonderful winter, spring, and summer. We'll see you next autumn!