Eastern Wilderness Act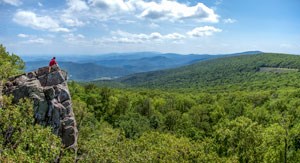 In 1964, Congress passed the Wilderness Act which was established to protect areas "where the earth and its community of life are untrammeled by man, where man himself is a visitor who does not remain. An area of Wilderness is further defined to mean in this Act an area of undeveloped Federal land retaining its primeval character and influence, without permanent improvements or human habitation, which is protected and managed so as to preserve its natural conditions..."
Most of the areas created under the Wilderness Act were located in the West. Areas in the East were not large enough or pristine enough to fit the Act's standard definition of Wilderness. However, in 1975, Congress passed the Eastern Wilderness Act, aimed to further the purpose of the Wilderness Act and include eastern wild areas that showed signs of human use, but were now returning to a natural state.
Before Shenandoah was established as a national park in 1935, the land had been privately owned and was inhabited, farmed, grazed, burned, logged, and mined by several generations of people. But, by the 1960's, Shenandoah's forest was able to naturally regenerate and significantly recover from prior human use. National Park Service officials recognized the value of Shenandoah's restored wilderness conditions, and believed that designated areas in the park possessed qualities described in the Wilderness Act. Fortunately, the Eastern Wilderness Act allowed Shenandoah to designate over 40% of the Park's land as Wilderness in 1976.
Last updated: February 20, 2014