Civilian Conservation Corps Reunion
Join us for the 86th Annual CCC Reunion on Saturday, September 28, 2019!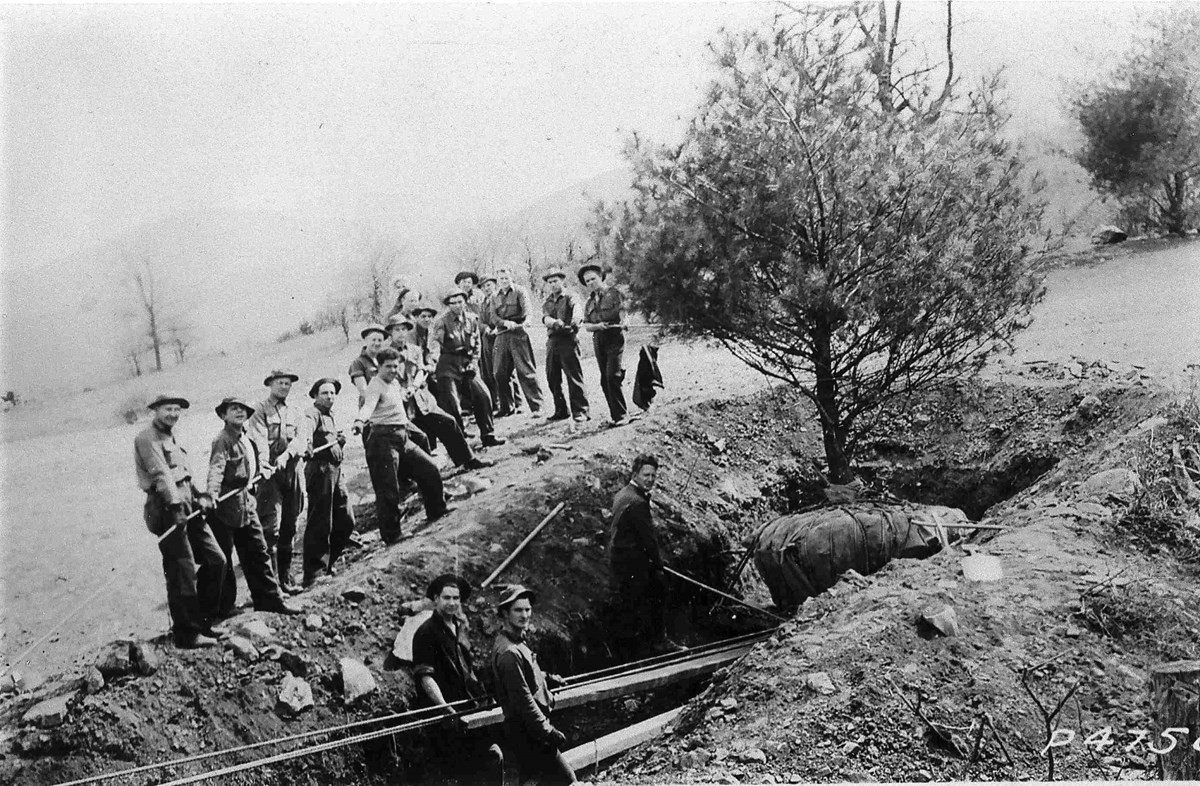 The Civilian Conservation Corps was established in 1933 as a work relief program, putting young men to work in Federal and State lands during the Great Depression.CCC camps were first established at Skyland (NP-1) and Big Meadows (NP-2) in May 1933, and from 1933 to 1942 the park supervised the work of 11 CCC camps.The Skyland and Big Meadows Camps were the first in the National Park Service and were visited by Franklin Delano Roosevelt in August 1933. During the course of the New Deal program over 1,200 "boys" a year worked to build facilities and create the landscape of the park. The park we see today would not exist without the work of the Civilian Conservation Corps.
The public is invited to meet with families and Alumni of the Civilian Conservation Corps and hear first-hand about their experiences. Alumni reunion events will take place at the Big Meadows Lodge (mile 51 Skyline Drive). Visitors wishing to learn more about the CCC should stop by the Byrd Visitor Center and explore the highly interactive exhibit, "Within a Day's Drive of Millions." This exhibit tells the story of Shenandoah's establishment and development including the work of the Civilian Conservation Corps.Visitors can also view a free film, "The CCC Boys." Learn more about the CCC in Shenandoah.
Entrance fees to Shenandoah National Park will be waived on September 22, 2018 in celebration of National Public Lands Day.
2019 CCC Reunion Agenda
9:00 - 10:00 AM
Massanutten Room, Big Meadows Lodge
Social time for CCC Reunion Alumni to meet with friends, family and visitors.

10:00 - 10:15 AM
Greeting and Remarks from the Park

10:15 - 11:30 AM
CCC Education Program Presentation

11:30 - 12:30 PM
Dan Herney, music, including songs form the 1930's and 40's in the Mountain Room

12:30 - 2:00 PM
Lunch available in the Big Meadows Lodge Dining Room. CCC Alumni will be provided with a complimentary lunch coupon, donated by the Shenandoah National Park Association.

2:00 til
A field trip location will be determined on the day of reunion depending on the weather.

The Reunion is officially over after the field trip. CCC wives and guests will be on their own. Dinner is available in the park at Skyland, Big Meadows Lodge, or
Big Meadows Wayside

NOTE: The Taproom at Skyland Lodge (Mountain Taproom) is open from 2:00 PM to 10:00 PM and Big Meadows Lodge (New Market Taproom) is open from 4:00 PM to 11:00 PM. Entertainment begins at both locations at 8:30 PM.
Last updated: September 23, 2019