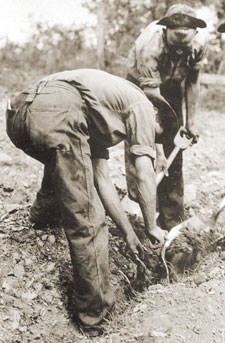 Shenandoah National Park will be hosting the 80th Annual Civilian Conservation Corps (CCC) Alumni Reunion.The public is invited to meet with Alumni and hear firsthand about their experiences.

The Civilian Conservation Corps, established in 1933 as a work relief program, putyoung men to work on Federal and State lands during the Great Depression. CCC camps were first established at Skyland (NP-1) and Big Meadows (NP-2) in May 1933, and from 1933-1942 the park supervised the work of eleven CCC camps. The Skyland and Big Meadows Camps were the first in the National Park Service and were visited by Franklin Delano Roosevelt in August 1933. During the course of the New Deal program over 1,200 "boys" a year worked to build facilities and create the landscape of the park. The park we see today would not exist without the work of the Civilian Conservation Corps.
There are multiple ways to learn more about the CCC and Shenandoah
Stop by the Byrd Visitor Center and explore the highly interactive exhibit, "Within a Day's Drive of Millions." This exhibit tells the story of Shenandoah's establishment and development including the work of the Civilian Conservation Corps.
Also at Byrd Visitor Center, view a free film entitled, "The CCC Boys."
Explore the site of NP-2, the second camp established in Shenandoah in Big Meadows, mile 51. Archeology revealed the locations of the buildings and the park installed interpretive panels with historic photos at each building site. The "company streets" have been mowed while the "buildings" have been allowed to grow up, giving visitors a visual representation of the buildings.
Entrance fees to Shenandoah National Park will be waived on September 29 in celebration of National Public Lands Day.