Backcountry Camping - Regulations
Protect yourself and your park
When you backcountry camp in Shenandoah National Park you may feel that you are the only person to have ever traveled here. Opportunities for solitude abound. However, each year tens of thousands of people spend a night or more in the park's backcountry and wilderness areas. One person damaging the park may go unnoticed, but consider what the park would look like if tens of thousands of people made poor choices. The following 12 backcountry regulations were designed to keep Shenandoah's backcountry and wilderness wild and untrammeled for you and for future generations of hikers and campers.
Regulations
Click for a PDF of the "Exploring the Backcountry" brochure (344kb)
1) You must have a free backcountry camping permit.
A free permit is required for each backcountry camping party. This helps the park to help you in the event of an emergency like wildland fires, floods, and searches. It also requires that you acknowledge an understanding of the other regulations for backcountry camping. Practice the Leave No Trace Principle of "Plan Ahead and Prepare."
2) Food, trash, and scented items must be stored in one of the ways listed below so that wildlife cannot get it.
Bears, mice, skunks, raccoons, chipmunks, and a host of other wildlife will want access to your food. Protect yourself, your food, and the park's wildlife by storing these items properly. Practice the Leave No Trace Principle of "Respect Wildlife"
Hang food in a tree at least 10 feet above the ground and 4 feet out from a tree trunk.
Hang food at a food storage pole provided at backcountry huts. image
Store food within a park-approved, bear-resistant food storage canister. (more >>)
3) Backcountry campfires are not permitted.
Campfires sterilize the ground, scar rocks, and consume wood that if left alone will become the soil that future generations of plants need to live. Unattended or poorly managed illegal campfires have caused thousands of acres to burn in wildland fires in Shenandoah. Use a backpacking stove for food preparation. Although fires are generally prohibited they are permitted at pre-constructed fireplaces at Appalachian Trail backcountry huts and day-use shelters. Practice the Leave No Trace Principle of "Minimize Campfire Impacts"
4) Closures
In order to better protect the fragile plants that live on some of Shenandoah's rock outcrops, the park has implemented some very limited closures. Areas on Old Rag, Little Stony Man, Hawksbill, Old Rag, Mary's Rock, Mount Marshall, and Overall Run are closed to backcountry camping. If you planning a hiking trip and/or a backcountry overnight trip to one of those areas, please check the following maps for new closures.

Printable maps with closures:

Additional areas are closed due to high use, or special natural or cultural resources that need added protection:

Limberlost Trail: closed area is bounded by Skyline Drive, Whiteoak Canyon Fire Road, and the Skyland-Big Meadows Horse Trail
Hawksbill Mountain Summit: area above 3,600 feet
Whiteoak Canyon: area between Skyland-Big Meadows Horse Trail and Cedar Run Link Trail
Old Rag Mountain Summit: area above 2,800 feet
Big Meadows: cleared area within view of Skyline Drive
Rapidan Camp: area within .5 mile of buildings

Closed areas are signed and it is the camper's responsibility to know and observe these closures.
5) Selecting a Campsite
Allow time to look for a legal, comfortable, and safe place to camp, which protects the park as well as the solitude of other hikers and backcountry campers.
Upon selecting an area to camp, look for and try to camp on pre-existing campsites out of sight of trails and roads. Don't create new campsites. Good campsites are found, not made.

Pre-existing Campsites. Campsites have been created and established by prior visitor use and are not posted, signed, or designated by the park. Use only campsites that are at least 20 yards from a park trail or an unpaved fire road.
Dispersed Camping. If you cannot locate a pre-existing campsite, you may camp on a previously undisturbed area. Please use "pristine site camping" Leave No Trace practices to minimize the impacts of your campsite. Limit your stay to one night and camp well out of sight of trails and roads and other camping groups. Otherwise, "Pre-existing Campsite" regulations apply.
Designated Campsites. Campsites are park-constructed and posted to concentrate backcountry camping at specific high-use sites. Presently, designated campsites are provided at Appalachian Trail huts to accommodate overflow camping.
Practice the Leave No Trace Principle of "Camp and Travel on Durable Surfaces."
6) Properly dispose of human waste.
Protect the purity of our water and the health of other hikers. Human feces contain many harmful pathogens. When nature calls, be sure to be prepared – bring a trowel to dig a hole six inches deep and bury your feces. Defecation within 20 yards of streams, trails, or roads is prohibited. If designated facilities are provided, such as a privy, use them. Practice the Leave No Trace Principle of "Dispose of Waste Properly."
7) Maximum group size is limited to 10 individuals.
Large backcountry camping groups can cause greater impacts to the plants and wildlife in the park. They can also impact the wilderness experience of other hikers and backcountry campers. Keep your group size small. If you do have more than 10 campers plan different itineraries, divide into smaller groups, and obtain a separate backcountry camping permit for each group. The separated groups must comply with "camping party" distances described in "No Camping may occur." Practice the Leave No Trace Principle of "Be Considerate of Other Visitors."
8) Carry all trash out of the backcountry and properly dispose of it.
"Pack it in; pack it out." Protect the backcountry experience for all visitors by keeping it clean. Trash left behind can also injure wildlife. Carry out all garbage, including food scraps. Leave glass containers at home. Practice the Leave No Trace Principle of "Dispose of Waste Properly"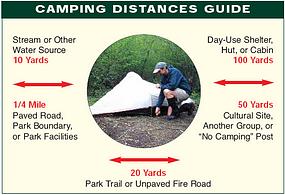 9) No camping May Occur:
...within 10 yards of a stream or other natural water source. Protect streams and the fish in them from water quality deterioration due to erosion.
...within 50 yards of standing building ruins including stone foundations, chimneys, and log walls. The park has a rich history. Camping in the area of former homesites can damage these remnants of our past. Practice the Leave No Trace Principle of "Leave What You Find."
...within 50 yards of another camping party or "no camping" post or sign. Preserve the solitude of others and respect areas that are closed to allow recovery from overuse
...within ¼ mile of a paved road, park boundary, or park facilities such as a campground, picnic area, visitor center, lodge, wayside, or restaurant. Backcountry camping requires that you get off the beaten path. If you do not want to travel the required distance, consider a front-country campground.
...within 100 yards of a hut, cabin, or day-use shelter. You may camp in a hut or cabin as described in this bulletin, or in a designated park-constructed campsites at Appalachian Trail huts.
...within 20 yards of trails and unpaved roads.
10) Pets must be leashed at all times and are not permitted on some trails.
Pets can frighten wildlife and other hikers. Keep Shenandoah a place where you can hike with your pet by keeping it leashed. Practice the Leave No Trace Principle of "Respect Wildlife" and "Be Considerate of Other Visitors."
11) Camping may not exceed two nights in one campsite location or 14 consecutive nights in the backcountry.
Camping in one spot for more than two nights increases damage to the park's resources. Keep wilderness the way it is described in the 1964 Wilderness Act: "Wilderness is…a place where man is a visitor who does not remain..."
12) Camping is permitted in specific backcountry facilities.
The Potomac Appalachian Trail Club (PATC) maintains a system of backcountry huts and cabins in Shenandoah National Park. Huts are three-sided structures located along the Appalachian Trail and for use by long-term hikers (who are out for three consecutive nights or more). Backcountry camping permits are required for camping in huts, and all park backcountry camping regulations apply. Permits are not required for cabins, which are reserved in advance from PATC.
Last updated: May 24, 2017